Dueling With the Three Musketeers (#03 in Enchanted Attic Series)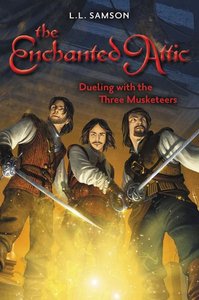 It all started with her Uncle's upcoming Chivalry and Romance and Loads of Frippery and Finery party... Madrigal Pierce's brother Johann has returned to The Pierce School For Young People with his greedy fiance, Feather. He owns half the mansion and plans to sell it. Fortunately, Ophelia has been reading The Three Musketeers, and Linus, Ophelia, and Walter decide D'Artagnan could set Johann straightand rescue him and the school from Feather's wily ways. Their plan goes horribly awry---again---when the evil Lady DeWinter appears instead, inspiring Feather with even more devious schemes. It's up to D'Artagnan and the Three Musketeers to save the day, or the school and their friendship may be doomed! A fantasy steeped in classic literature...narrator Bartholomew Inkster brings Lemony Snicket--like irony to frame the story....References to literature throughout the narrative make this a feast for middlegrade book lovers. Kids who like quirky adventure stories with idiosyncratic characters will enjoy a simpler kind of fun. -- Publishers Weekly

- Publisher
You May Also Be Interested In
About "Dueling With the Three Musketeers (#03 in Enchanted Attic Series)"
It all started with her Uncle's upcoming Chivalry and Romance and Loads of Frippery and Finery party... Madrigal Pierce's brother Johann has returned to The Pierce School For Young People with his greedy fiance, Feather. He owns half the mansion and plans to sell it. Fortunately, Ophelia has been reading The Three Musketeers, and Linus, Ophelia, and Walter decide D'Artagnan could set Johann straightand rescue him and the school from Feather's wily ways. Their plan goes horribly awry---again---when the evil Lady DeWinter appears instead, inspiring Feather with even more devious schemes. It's up to D'Artagnan and the Three Musketeers to save the day, or the school and their friendship may be doomed! A fantasy steeped in classic literature...narrator Bartholomew Inkster brings Lemony Snicket--like irony to frame the story....References to literature throughout the narrative make this a feast for middlegrade book lovers. Kids who like quirky adventure stories with idiosyncratic characters will enjoy a simpler kind of fun. -- Publishers Weekly
- Publisher


Meet the Author
Lisa Samson
Lisa Samson is the author of over twenty-five books, including the Christy award-winning novel Songbird. Her novel, Quaker Summer was Christianity Today's novel of 2008. She is coauthor with her husband, Will, of Justice in the Burbs.
Other Titles In The "Enchanted Attic Series" Series View All