Dumbfounded Praying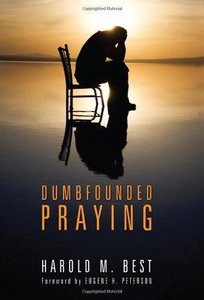 Dumbfounded Praying is a book of no-limits, uninhibited praying-dumfounded praying. It is a confessing book, an idea book, a wrestling and praise-filled book, and like the Psalms, intensely personal, but certainly not private. These prayers are for everybody who is thirsty and hungry, who doubts, who might be unsure of the value of prayer; they are for anybody who wants to question, confess, praise, lament, imagine, and speculate. This book is open to all who love the richness of speech with God and want his everlasting richness to flood their minds, hearts, and circumstances in return.Prayer is more than a narrow, tidied list of "proper things" to talk to God about. Nothing is off-limits with God, for he intimately knows what fills our minds, stirs in our hearts, and frames our circumstances. God invites us to talk everything over with him, honestly, fearlessly, even imaginatively. Out of sheer love, God has eternally befriended himself to us and asks us into his confidence and in turn invites us to confide freely in him. God wants us to know that while we would rather talk than listen, he always listens before he talks, and when he does, it is always with his Word, strongly yet sweetly offered to us by his Spirit and made eternally sure by his Son. This Word is inevitably filled with mercy, love, grace, forgiveness, correction, and unblemished wisdom.

- Publisher
You May Also Be Interested In
About "Dumbfounded Praying"
Dumbfounded Praying is a book of no-limits, uninhibited praying-dumfounded praying. It is a confessing book, an idea book, a wrestling and praise-filled book, and like the Psalms, intensely personal, but certainly not private. These prayers are for everybody who is thirsty and hungry, who doubts, who might be unsure of the value of prayer; they are for anybody who wants to question, confess, praise, lament, imagine, and speculate. This book is open to all who love the richness of speech with God and want his everlasting richness to flood their minds, hearts, and circumstances in return.Prayer is more than a narrow, tidied list of "proper things" to talk to God about. Nothing is off-limits with God, for he intimately knows what fills our minds, stirs in our hearts, and frames our circumstances. God invites us to talk everything over with him, honestly, fearlessly, even imaginatively. Out of sheer love, God has eternally befriended himself to us and asks us into his confidence and in turn invites us to confide freely in him. God wants us to know that while we would rather talk than listen, he always listens before he talks, and when he does, it is always with his Word, strongly yet sweetly offered to us by his Spirit and made eternally sure by his Son. This Word is inevitably filled with mercy, love, grace, forgiveness, correction, and unblemished wisdom.
- Publisher


Meet the Authors
Harold Best
Harold M. Best (M.A. Claremont Graduate School, D.S.M. from Union Theological Seminary) is emeritus professor of music and dean emeritus of the Wheaton College Conservatory of Music.His retirement was celebrated with the publication of a Festschrift, The Oil is our Worship, The Water is our Service. He is Past President of the National Association of Schools of Music and past Chairman of the Commission on Accreditation. His publications include Music Through the Eyes of Faith, Unceasing Worship, and has contributed to the Traditional worship section of Counterpoints: Exploring The Worship Spectrum.
Eugene H Peterson
Dr. Eugene H. Peterson is a pastor, scholar, author, and poet. He has written nearly thirty influential books including, Praying with the Psalms; Praying with Jesus; Reversed Thunder; Leap Over a Wall; Run with the Horses and Answering God , but he is best known for The Message: The Bible in Contemporary Language a contemporary paraphrase of the Bible.
Eugene Peterson was educated at Seattle Pacific University, New York Theological Seminary, and Johns Hopkins University, and in 1962, Peterson became founding pastor of Christ Our King Presbyterian Church in Bel Air, Maryland, where he served for 29 years before retiring. He is Professor Emeritus of Spiritual Theology at Regent College in Vancouver, British Columbia retiring in 2002.
His most recent publications have been the Spiritual Theology Series including Eat this Book; Christ Dances in a Thousand Places; The Word Made Flesh; The Jesus Way and the fifth volume Practising Resurrection.
Koorong -Editorial Review.