Eastern Orthodox Christianity (2nd Edition)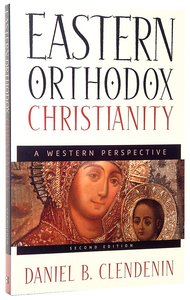 A Western Perspective

In this reliable, fair, and engaging survey, Daniel Clendenin introduces Protestants to Eastern Orthodox history and theology with the hope that the two groups will come to see their traditions as complementary and learn to approach one another with a "hermeneutic of love" that fosters "mutual respect, toleration, and even support."

This revised edition includes a new preface, a new chapter, and an updated bibliography. In addition to updated demographic information, Clendenin examines at length a particular aspect of Orthodoxy's intersection with Protestantism-its growing exchange with evangelicalism. 192 pages, from Baker.


- Publisher A clear introduction to Eastern Orthodoxy and key aspects of the tradition. Includes new content and an updated bibliography.

- Publisher "Clendenin presents Orthodoxy in an honest and sympathetic way, stressing its emphasis on the historic continuity of the apostolic faith as well as on personal conversion and spirituality. For the Protestant reader, he carefully explains why the Orthodox venerate icons, how they approach Scripture, and how they understand tradition. Eschewing a polemical tone, Clendenin employs a 'hermeneutic of peace,' without which no respect or trust can be achieved. This book is highly recommended for the Western student of Eastern Christianity."-Paul Meyendorff, St. Vladimir's Orthodox Theological Seminary"Eastern Orthodox Christianity has already proven to be a most helpful book. It clearly and engagingly introduces the reader to a rich Christian heritage that is too often overlooked. Changes in global realities since the book's original publication make an informed appreciation for Orthodox Christianity all the more important in the West. And the revisions, additions, and enhancements in the second edition, including the accompanying reader, make this book all the more valuable."-W. David Buschart, professor of theology and associate dean, Denver Seminary"For too long the world of Eastern Orthodoxy has remained unexplored territory for Protestants of all stripes. Clendenin proves to be a wise and knowledgeable guide to Eastern Orthodox theology and life. In light of the striking rebirth of interest in classical Christianity and the church Fathers both in mainline denominations and across evangelicalism, readers will find Clendenin's work to be must reading."-Christopher Hall, author of Learning Theology with the Church Fathers"Daniel Clendinen's Eastern Orthodox Christianity is already a classic. A work characterized by clarity, accuracy, and respect, this book offers an excellent introduction to the Eastern Orthodox faith."-Frederica Mathewes-Green, author of Facing East: A Pilgrim's Journey into the Mysteries of Orthodoxy "Clendenin takes readers through the world of new ecumenical understanding among Protestants and Eastern Orthodox Christians, with some reference to Roman Catholicism as well. The journey is not without critique of the Orthodox tradition, yet Clendenin does it with a compelling 'hermeneutic of love.' His new epilogue is a nuanced and helpful message of hope."-Scotty McLennan, Stanford University"A splendid book with far-reaching ecumenical implications."-Donald Bloesch, Dubuque Theological Seminary"A readable view of Eastern Christianity through Western eyes by one who has spent significant time in the East."-Thomas Oden, Drew University

- Publisher
You May Also Be Interested In
About "Eastern Orthodox Christianity (2nd Edition)"
A Western Perspective

In this reliable, fair, and engaging survey, Daniel Clendenin introduces Protestants to Eastern Orthodox history and theology with the hope that the two groups will come to see their traditions as complementary and learn to approach one another with a "hermeneutic of love" that fosters "mutual respect, toleration, and even support."

This revised edition includes a new preface, a new chapter, and an updated bibliography. In addition to updated demographic information, Clendenin examines at length a particular aspect of Orthodoxy's intersection with Protestantism-its growing exchange with evangelicalism. 192 pages, from Baker.

- Publisher

A clear introduction to Eastern Orthodoxy and key aspects of the tradition. Includes new content and an updated bibliography.
- Publisher

"Clendenin presents Orthodoxy in an honest and sympathetic way, stressing its emphasis on the historic continuity of the apostolic faith as well as on personal conversion and spirituality. For the Protestant reader, he carefully explains why the Orthodox venerate icons, how they approach Scripture, and how they understand tradition. Eschewing a polemical tone, Clendenin employs a 'hermeneutic of peace,' without which no respect or trust can be achieved. This book is highly recommended for the Western student of Eastern Christianity."-Paul Meyendorff, St. Vladimir's Orthodox Theological Seminary"Eastern Orthodox Christianity has already proven to be a most helpful book. It clearly and engagingly introduces the reader to a rich Christian heritage that is too often overlooked. Changes in global realities since the book's original publication make an informed appreciation for Orthodox Christianity all the more important in the West. And the revisions, additions, and enhancements in the second edition, including the accompanying reader, make this book all the more valuable."-W. David Buschart, professor of theology and associate dean, Denver Seminary"For too long the world of Eastern Orthodoxy has remained unexplored territory for Protestants of all stripes. Clendenin proves to be a wise and knowledgeable guide to Eastern Orthodox theology and life. In light of the striking rebirth of interest in classical Christianity and the church Fathers both in mainline denominations and across evangelicalism, readers will find Clendenin's work to be must reading."-Christopher Hall, author of Learning Theology with the Church Fathers"Daniel Clendinen's Eastern Orthodox Christianity is already a classic. A work characterized by clarity, accuracy, and respect, this book offers an excellent introduction to the Eastern Orthodox faith."-Frederica Mathewes-Green, author of Facing East: A Pilgrim's Journey into the Mysteries of Orthodoxy "Clendenin takes readers through the world of new ecumenical understanding among Protestants and Eastern Orthodox Christians, with some reference to Roman Catholicism as well. The journey is not without critique of the Orthodox tradition, yet Clendenin does it with a compelling 'hermeneutic of love.' His new epilogue is a nuanced and helpful message of hope."-Scotty McLennan, Stanford University"A splendid book with far-reaching ecumenical implications."-Donald Bloesch, Dubuque Theological Seminary"A readable view of Eastern Christianity through Western eyes by one who has spent significant time in the East."-Thomas Oden, Drew University
- Publisher


Meet the Author
Daniel B Clendenin
Daniel B. Clendenin (Ph.D., Drew University) works with Intervarsity Graduate and Faculty Ministries at Stanford University. He previously served as visiting professor of Christian studies at Moscow State University.