Eating Heaven: Spirituality At the Table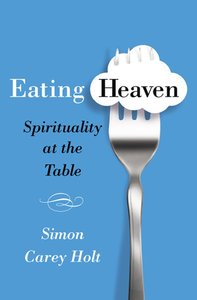 Sitting down at a table to eat is an activity so grounded in the ordinary, so basic to the daily routines of life, we rarely ponder it beyond the simple inquiry, ?What's for dinner?? However, scratch a little deeper and you discover in eating one of the most meaning-laden activities of our lives, one so immersed in human longing and relationship it's a practice of sacred dimensions.In this age of culinary infatuations, global food crises, celebrity chefs and Biggest Losers, the need to reflect more seriously upon eating is pressing. A trained chef, teacher, social researcher, minister of religion and homemaker, Simon Carey Holt draws on experience and research to explore the role of eating in our search for meaning and community. To do so, he invites us to sit at the tables of daily life ? from kitchen tables to backyard barbecues, from cafe tables to the beautifully set tables of our city's finest restaurants ? and consider how our life at these tables interacts with our deepest values and commitments.

- Publisher
You May Also Be Interested In
About "Eating Heaven: Spirituality At the Table"
Sitting down at a table to eat is an activity so grounded in the ordinary, so basic to the daily routines of life, we rarely ponder it beyond the simple inquiry, ?What's for dinner?? However, scratch a little deeper and you discover in eating one of the most meaning-laden activities of our lives, one so immersed in human longing and relationship it's a practice of sacred dimensions.In this age of culinary infatuations, global food crises, celebrity chefs and Biggest Losers, the need to reflect more seriously upon eating is pressing. A trained chef, teacher, social researcher, minister of religion and homemaker, Simon Carey Holt draws on experience and research to explore the role of eating in our search for meaning and community. To do so, he invites us to sit at the tables of daily life ? from kitchen tables to backyard barbecues, from cafe tables to the beautifully set tables of our city's finest restaurants ? and consider how our life at these tables interacts with our deepest values and commitments.
- Publisher


Meet the Author
Simon Carey Holt
Simon Carey Holt (PhD., Fuller Theological Seminary) is Lecturer in Spirituality at Whitley College (University of Melbourne & Melbourne College of Divinity). He lives with his family in the city of Melbourne, a place for which he has the deepest affection. Previously a pastor and church planter, Simon works actively with faith communities seeking a more authentic connection with their local neighbourhoods. He has authored God Next Door: Spirituality and mission in the neighbourhood and co-edited essays in honour of Robert Banks The Bible and the Business of Life.