Ecclesiastes (Baker Commentary On The Old Testament Wisdom And Psalms Series)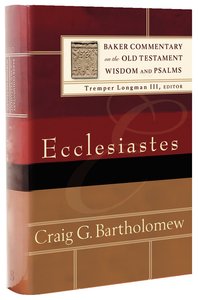 Respected Old Testament scholar Craig Bartholomew, coauthor of the well-received Drama of Scripture, provides a careful exegetical reading of Ecclesiastes in this latest addition to the Baker Commentary on the Old Testament Wisdom and Psalms series. Along with helpful translation and commentary, Ecclesiastes considers the theological implications of the text and its literary, historical, and grammatical dimensions. Footnotes deal with many of the technical matters, allowing readers of varying levels of interest and training to read and profit from the commentary and to engage the biblical text at an appropriate level. Pastors, teachers, and all serious students of the Bible will find here an accessible commentary that will serve as an excellent resource for their study.

- Publisher "Bartholomew's commentary is an extraordinary achievement, in many ways a unique contribution to the vast literature on this enigmatic biblical book. It combines an intimate knowledge of the biblical text and the secondary literature on it with a passionate commitment to reading the text as Scripture, that is, the living voice of God to believers today. In addition, Bartholomew brings to his commentary a wide knowledge of the history of interpretation and of the hermeneutical issues involved in the appropriation of Ecclesiastes for today. Beyond these excellences, however, he also brings a prophetic awareness of the cultural and religious challenges facing the worldwide church today, and he is not afraid to make direct connections from the biblical text to the personal and global crises of our times. Rarely has the Preacher been made so preachable."--Al Wolters, professor of religion and theology, Redeemer University College"It is a rare commentary that is both readable and learned. Even rarer is one that immerses readers in the deep questions of life. Bartholomew's new book helps us to think our way through Ecclesiastes and its mazes. More than that, it confronts us anew with the mystery and responsibility of human existence before the face of God."--Raymond C. Van Leeuwen, professor of biblical studies, Eastern University"Elegant and clear in presentation, with masterful control of the history of interpretation, Bartholomew has made a significant contribution to Ecclesiastes studies. He handles all the critical issues with care and insight and has given us a readable and penetrating portrayal of this enigmatic witness. A new standard."--Christopher R. Seitz, professor of biblical interpretation, University of Toronto, Wycliffe College"Bartholomew provides an exegetically accurate, theologically sensitive, and culturally relevant reading of the enigmatic Qohelet. For Bartholomew, Ecclesiastes is neither a dusty museum piece confined to ancient history nor an alien treatise limited to a past religious era. Instead, by combining the best historical, linguistic, literary, canonical, theological, and hermeneutical perspectives on this text, Bartholomew treats Ecclesiastes as a dynamic text that speaks powerfully into the (post)modern context of church and culture."--Mark J. Boda, professor of Old Testament, McMaster Divinity College, McMaster University"Bartholomew has made a major breakthrough in providing an integrated, holistic reading that recognizes the tensions within the book but regards them as intentional. The author provides a dialogue between two opposing poles--a confessional one of Israelite wisdom whose starting point is God and an autonomous one based on Greek thought with a human starting point. The book lets both positions forcefully contradict each other throughout so that the weight of each can be felt and evaluated. Bartholomew writes creatively and passionately with full awareness of every major and minor work written on Ecclesiastes and has an excellent grasp of contemporary theological and philosophical currents. Calling it a welcome addition to the commentaries on Ecclesiastes would be to understate the significance of Bartholomew's work. I think it is a landmark!"--Stephen Dempster, Stuart E. Murray Associate Professor of Religious Studies, Atlantic Baptist University

- Publisher
You May Also Be Interested In
About "Ecclesiastes (Baker Commentary On The Old Testament Wisdom And Psalms Series)"
Respected Old Testament scholar Craig Bartholomew, coauthor of the well-received Drama of Scripture, provides a careful exegetical reading of Ecclesiastes in this latest addition to the Baker Commentary on the Old Testament Wisdom and Psalms series. Along with helpful translation and commentary, Ecclesiastes considers the theological implications of the text and its literary, historical, and grammatical dimensions. Footnotes deal with many of the technical matters, allowing readers of varying levels of interest and training to read and profit from the commentary and to engage the biblical text at an appropriate level. Pastors, teachers, and all serious students of the Bible will find here an accessible commentary that will serve as an excellent resource for their study.
- Publisher

"Bartholomew's commentary is an extraordinary achievement, in many ways a unique contribution to the vast literature on this enigmatic biblical book. It combines an intimate knowledge of the biblical text and the secondary literature on it with a passionate commitment to reading the text as Scripture, that is, the living voice of God to believers today. In addition, Bartholomew brings to his commentary a wide knowledge of the history of interpretation and of the hermeneutical issues involved in the appropriation of Ecclesiastes for today. Beyond these excellences, however, he also brings a prophetic awareness of the cultural and religious challenges facing the worldwide church today, and he is not afraid to make direct connections from the biblical text to the personal and global crises of our times. Rarely has the Preacher been made so preachable."--Al Wolters, professor of religion and theology, Redeemer University College"It is a rare commentary that is both readable and learned. Even rarer is one that immerses readers in the deep questions of life. Bartholomew's new book helps us to think our way through Ecclesiastes and its mazes. More than that, it confronts us anew with the mystery and responsibility of human existence before the face of God."--Raymond C. Van Leeuwen, professor of biblical studies, Eastern University"Elegant and clear in presentation, with masterful control of the history of interpretation, Bartholomew has made a significant contribution to Ecclesiastes studies. He handles all the critical issues with care and insight and has given us a readable and penetrating portrayal of this enigmatic witness. A new standard."--Christopher R. Seitz, professor of biblical interpretation, University of Toronto, Wycliffe College"Bartholomew provides an exegetically accurate, theologically sensitive, and culturally relevant reading of the enigmatic Qohelet. For Bartholomew, Ecclesiastes is neither a dusty museum piece confined to ancient history nor an alien treatise limited to a past religious era. Instead, by combining the best historical, linguistic, literary, canonical, theological, and hermeneutical perspectives on this text, Bartholomew treats Ecclesiastes as a dynamic text that speaks powerfully into the (post)modern context of church and culture."--Mark J. Boda, professor of Old Testament, McMaster Divinity College, McMaster University"Bartholomew has made a major breakthrough in providing an integrated, holistic reading that recognizes the tensions within the book but regards them as intentional. The author provides a dialogue between two opposing poles--a confessional one of Israelite wisdom whose starting point is God and an autonomous one based on Greek thought with a human starting point. The book lets both positions forcefully contradict each other throughout so that the weight of each can be felt and evaluated. Bartholomew writes creatively and passionately with full awareness of every major and minor work written on Ecclesiastes and has an excellent grasp of contemporary theological and philosophical currents. Calling it a welcome addition to the commentaries on Ecclesiastes would be to understate the significance of Bartholomew's work. I think it is a landmark!"--Stephen Dempster, Stuart E. Murray Associate Professor of Religious Studies, Atlantic Baptist University
- Publisher


Meet the Author
Craig Bartholomew
Craig G. Bartholomew (Ph.D., University of Bristol) is H. Evan Runner Chair in Philosophy at Redeemer University College, Ancaster, Ontario, Canada.
He is the author of Reading Ecclesiastes: Old Testament Exegesis and Hermeneutical Theory; Ecclesiastes (Baker Commentary on the Old Testament Wisdom and Psalms series); Where Mortals Dwell: A Christian View of Place for Today
He is also co-author of The Drama of Scripture and Living at the Crossroads: Introduction to Christian Worldview with Michael W. Goheen. He has also edited In the Fields of the Lord: A Calvin Seerveld Reader and co-edited Christ and Consumerism: A Critical Analysis of the Spirit of the Age. He is the series editor for the Scripture and Hermeneutics Series (8 volumes).
Other Titles In The "Baker Commentary On The Old Testament Wisdom And Psalms" Series View All