Edward Hicks: Pacifist Bishop At War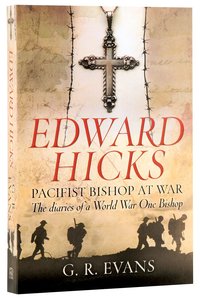 What does a Bishop, who has declared himself to be a pacifist, do when his country goes to war? The story of Edward Hicks throws a new light on the problems of conscience the First World War created. Acclaimed author G. R. Evans reveals how he wrestled with the issues, yet had to watch his sons go off to fight - one not to return. Drawing upon his detailed diaries, full of indiscreet comments - the sort of thing it would now be unwise for a bishop to write in an email - Evans reveals Edward Hicks to be a man battling his own conscience and beliefs. Hicks was also a strong supporter of votes for women, which was highly unusual at that time and a supporter of teetotalism, an contentious stance for a C of E dignitary. These were not uncontroversial matters, and for a bishop to adopt a high-profile position on them was to invite trouble. This book provides a fascinating glimpse into the impact the War had on an individual and those around him, who waited at home, and tried to hold onto their humanity.

- Publisher
You May Also Be Interested In
About "Edward Hicks: Pacifist Bishop At War"
What does a Bishop, who has declared himself to be a pacifist, do when his country goes to war? The story of Edward Hicks throws a new light on the problems of conscience the First World War created. Acclaimed author G. R. Evans reveals how he wrestled with the issues, yet had to watch his sons go off to fight - one not to return. Drawing upon his detailed diaries, full of indiscreet comments - the sort of thing it would now be unwise for a bishop to write in an email - Evans reveals Edward Hicks to be a man battling his own conscience and beliefs. Hicks was also a strong supporter of votes for women, which was highly unusual at that time and a supporter of teetotalism, an contentious stance for a C of E dignitary. These were not uncontroversial matters, and for a bishop to adopt a high-profile position on them was to invite trouble. This book provides a fascinating glimpse into the impact the War had on an individual and those around him, who waited at home, and tried to hold onto their humanity.
- Publisher


Meet the Author
G R Evans
GR Evans is Emeritus Professor of Medieval Theology and Intellectual History in the University of Cambridge. She has an international reputation in the fields of medieval intellectual history and modern ecumenical theology, and has published extensively in these fields. Her books include Wyclif: Myth and Reality (Lion), The History of Christian Europe (Lion), The Good, the Bad and the Moral (Lion), Anselm and Talking about God (Oxford), Problems of Authority in the Reformation Debates (Cambridge University Press), and The Anselm Concordance (Kraus, 4 vols.).