Effective Intercultural Communication - a Christian Perspective (Encountering Mission Series)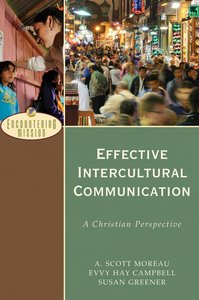 With the development of instantaneous global communication, it is vital to communicate effectively across cultural boundaries. This addition to the acclaimed Encountering Mission series is designed to offer contemporary intercultural communication insights to mission students and practitioners. Authored by leading missionary scholars with significant intercultural experience, the book explores the cultural values that show up in intercultural communication and examines how we can communicate effectively in a new cultural setting. Features such as case studies, tables, figures, and sidebars are included, making the book useful for classrooms.

- Publisher
You May Also Be Interested In
About "Effective Intercultural Communication - a Christian Perspective (Encountering Mission Series)"
With the development of instantaneous global communication, it is vital to communicate effectively across cultural boundaries. This addition to the acclaimed Encountering Mission series is designed to offer contemporary intercultural communication insights to mission students and practitioners. Authored by leading missionary scholars with significant intercultural experience, the book explores the cultural values that show up in intercultural communication and examines how we can communicate effectively in a new cultural setting. Features such as case studies, tables, figures, and sidebars are included, making the book useful for classrooms.
- Publisher


Meet the Authors
A Scott Moreau
A. Scott Moreau (D.Miss., Trinity Evangelical Divinity School) is professor of missions and intercultural studies at Wheaton College Graduate School. He is the general editor of the Evangelical Dictionary of World Missions. Gary R. Corwin is associate editor of Evangelical Missions Quarterly, special representative with SIM (Serving in Mission), and a visiting lecturer at Reformed Theological Seminary. Gary B. McGee (Ph.D., St. Louis University) is professor of church history and Pentecostal studies at the Assemblies of God Theological Seminary.
Evvy Hay Campbell
Evvy Hay Campbell (PhD, Michigan State University) is associate professor of intercultural studies emerita at Wheaton College and lives in Flushing, Michigan.
Susan Greener
Susan Greener (PhD, University of Illinois, Urbana) is associate professor of intercultural studies at Wheaton College.
Table Of Contents
With The Development Of Instantaneous Global Communication, It Is Vital To Communicate Effectively Across Cultural Boundaries. This Addition To The Acclaimed Encountering Mission Series Is Designed To Offer Contemporary Intercultural Communication Insights To Mission Students And Practitioners. Authored By Leading Missionary Scholars With Significant Intercultural Experience, The Book Explores The Cultural Values That Show Up In Intercultural Communication And Examines How We Can Communicate Effectively In A New Cultural Setting. Features Such As Case Studies, Tables, Figures, And Sidebars Are Included, Making The Book Useful For Classrooms.
Other Titles In The "Encountering Mission" Series View All