Eli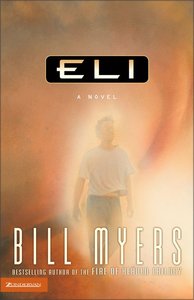 What If Jesus Had Not Come Until Today? Who Would Follow Him? Who Would Kill Him?A fiery car crash hurls TV journalist Conrad Davis into another world exactly like ours except for one detail--Jesus Christ did not come 2,000 years ago, but today.Starting with angels heralding a birth in the back of a motel laundry room, the skeptical Davis watches the gospel unfold in today's society as a Messiah in T-shirt and blue jeans heals, raises people from the dead, and speaks such startling truths that he captures the heart of a nation.But the young man's actions and his criticism of the religious establishment earn him enemies as ruthless as they are powerful.An intense and thought-provoking novel, Eli strips away religious tradition to present Jesus fresh and unvarnished. With gripping immediacy, Bill Myers weaves a story whose truth will refresh your faith.

- Publisher A successful TV newscaster is hurled into a parallel world exactly like this one with one exception: Jesus has not yet come upon the scene, until now. An agnostic at best, the hero watches and participates in a contemporary telling of the gospel, from the virgin birth in the back of a Motel 6 laundry room to the eventual lynching and resurrection--all told set in today's society. "Eli" gives readers a fresh, startling glimpse of Jesus as a living, breathing, here-and-now person with the power to change lives.

- Publisher
You May Also Be Interested In
About "Eli"
What If Jesus Had Not Come Until Today? Who Would Follow Him? Who Would Kill Him?A fiery car crash hurls TV journalist Conrad Davis into another world exactly like ours except for one detail--Jesus Christ did not come 2,000 years ago, but today.Starting with angels heralding a birth in the back of a motel laundry room, the skeptical Davis watches the gospel unfold in today's society as a Messiah in T-shirt and blue jeans heals, raises people from the dead, and speaks such startling truths that he captures the heart of a nation.But the young man's actions and his criticism of the religious establishment earn him enemies as ruthless as they are powerful.An intense and thought-provoking novel, Eli strips away religious tradition to present Jesus fresh and unvarnished. With gripping immediacy, Bill Myers weaves a story whose truth will refresh your faith.
- Publisher

A successful TV newscaster is hurled into a parallel world exactly like this one with one exception: Jesus has not yet come upon the scene, until now. An agnostic at best, the hero watches and participates in a contemporary telling of the gospel, from the virgin birth in the back of a Motel 6 laundry room to the eventual lynching and resurrection--all told set in today's society. "Eli" gives readers a fresh, startling glimpse of Jesus as a living, breathing, here-and-now person with the power to change lives.
- Publisher


Meet the Author
Bill Myers
Bill Myers is the author of the humorously imaginative The Incredible Worlds of Wally McDoogle series, which currently numbers 27 episodes and over 2.1 million units sold. He is also the creator and writer of the McGee and Me! video/dvd series. Myers is a director as well as a writer, and his films have won over forty national and international awards. He has written more than 50 books for kids, teens, and adults. Myer's work is enjoyed by millions around the world. He lives with his wife and two daughters in Southern California.- Publisher.