Embracing Life, Spirit, Faith, and Adversity (#01 in Gifts Of Freedom Series)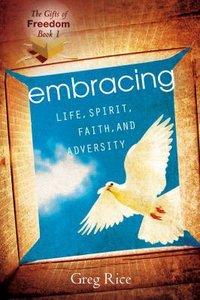 Our society is blindly chasing after freedom???financial freedom, freedom from sadness, we're on a quest for spiritual truth - yet, these pursuits leave most of us on an endless treadmill. The truth is, life-changing freedom is available to all who have the answers to life's most important questions. What is the purpose for which I was created? How do I get to know my Creator? How do I live in wholehearted freedom? God did not design His creation to survive--but never really live. The aim of this book is to set people free through Biblical truth; offering clear succinct answers. The "Gifts of Freedom" will bring its readers hope, encouragement, joy and their purpose in life. Will you choose to learn about, receive, unwrap and use these wonderful gifts?

- Publisher Today you can embrace life, spirit, and faith through the Gifts of Freedom. Are you searching for freedom from: Financial worries? Spiritual doubts? Guilty feelings? Emotional distress? Loneliness? Your search will end when you rip open the gift wrap and see the exciting life-changing contents of a box packed full of liberating freedoms. No matter your current situation, your life will overflow with an explainable, supernatural force of peace and joy.

- Publisher
You May Also Be Interested In
About "Embracing Life, Spirit, Faith, and Adversity (#01 in Gifts Of Freedom Series)"
Our society is blindly chasing after freedom???financial freedom, freedom from sadness, we're on a quest for spiritual truth - yet, these pursuits leave most of us on an endless treadmill. The truth is, life-changing freedom is available to all who have the answers to life's most important questions. What is the purpose for which I was created? How do I get to know my Creator? How do I live in wholehearted freedom? God did not design His creation to survive--but never really live. The aim of this book is to set people free through Biblical truth; offering clear succinct answers. The "Gifts of Freedom" will bring its readers hope, encouragement, joy and their purpose in life. Will you choose to learn about, receive, unwrap and use these wonderful gifts?
- Publisher

Today you can embrace life, spirit, and faith through the Gifts of Freedom. Are you searching for freedom from: Financial worries? Spiritual doubts? Guilty feelings? Emotional distress? Loneliness? Your search will end when you rip open the gift wrap and see the exciting life-changing contents of a box packed full of liberating freedoms. No matter your current situation, your life will overflow with an explainable, supernatural force of peace and joy.
- Publisher


Meet the Author
Greg Rice
Greg Rice gave his heart to Jesus in 1988. As God was healing him, he shared his new life and success with others through several ministries, including Solid Rock Media and Impact for Life which is divided into three outreaches- Library of Hope, Daughters of Destiny, and Impact Network-all designed to help prisoners and their families with the healing touch of God.
Other Titles In The "Gifts Of Freedom" Series