Emerging Worship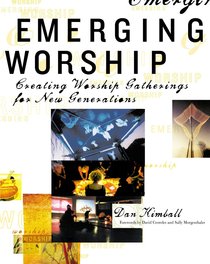 Churches are aging. Even among megachurches with their modern technology and huge number of members, whole generations are now missing. In order to reach the 18-35 year olds, churches need to incorporate alternative worship services into their ministries that meet the unique needs of the emerging generations.;In a conversational, narrative style, author Dan Kimball guides church leaders on how to create alternative services from start to finish. Using anecdotes from his own experience at Graceland, Kimball presents six creative models, providing real-life examples of each type. Emerging Worship covers key topics including * Developing a prayer team * Evaluating the local mission field and context * Determining leaders and a vision-based team * Understanding why youth pastors are usually the ideal staff to start a new service * Recognizing the difference in values between emerging worship and the rest of the church * Asking critical questions beforehand

- Publisher A complete guide to developing an alternative worship service for the younger emerging generation.

- Publisher Where are the 18- to 35-year-olds? Why isn't the church engaging them? What about our current forms of worship isn't resonating with this group? If the church is to regain relevance with and connect to our rapidly, radically changing culture, it must pioneer new forms of worship and trailblaze alternative worship services for those growing up in this post-Christian age. In his previous book, The Emerging Church, author Dan Kimball discussed the holistic changes needed in our Christian communities as this new millennium unfolds. In his newest effort, Emerging Worship: Creating Worship Gathering for New Generations, Kimball ups the ante, focusing specifically on the steps church leaders can take when creating multisensory workship gatherings to reach these young generations. Kimball also unpacks several distinct approaches churches have successfully employed in birthing new worship gatherings, as well as effective ways congregations like yours are structuring their leadership and rethinking church and worship. Emerging Worship will inspire you and equip you in practical ways. As Kimball notes, we must be risk-takers to make changes in our churches. It's time to act; there's too much at stake to sit on the sidelines. Book jacket.

- Publisher
You May Also Be Interested In
About "Emerging Worship"
Churches are aging. Even among megachurches with their modern technology and huge number of members, whole generations are now missing. In order to reach the 18-35 year olds, churches need to incorporate alternative worship services into their ministries that meet the unique needs of the emerging generations.;In a conversational, narrative style, author Dan Kimball guides church leaders on how to create alternative services from start to finish. Using anecdotes from his own experience at Graceland, Kimball presents six creative models, providing real-life examples of each type. Emerging Worship covers key topics including * Developing a prayer team * Evaluating the local mission field and context * Determining leaders and a vision-based team * Understanding why youth pastors are usually the ideal staff to start a new service * Recognizing the difference in values between emerging worship and the rest of the church * Asking critical questions beforehand
- Publisher

A complete guide to developing an alternative worship service for the younger emerging generation.
- Publisher

Where are the 18- to 35-year-olds? Why isn't the church engaging them? What about our current forms of worship isn't resonating with this group? If the church is to regain relevance with and connect to our rapidly, radically changing culture, it must pioneer new forms of worship and trailblaze alternative worship services for those growing up in this post-Christian age. In his previous book, The Emerging Church, author Dan Kimball discussed the holistic changes needed in our Christian communities as this new millennium unfolds. In his newest effort, Emerging Worship: Creating Worship Gathering for New Generations, Kimball ups the ante, focusing specifically on the steps church leaders can take when creating multisensory workship gatherings to reach these young generations. Kimball also unpacks several distinct approaches churches have successfully employed in birthing new worship gatherings, as well as effective ways congregations like yours are structuring their leadership and rethinking church and worship. Emerging Worship will inspire you and equip you in practical ways. As Kimball notes, we must be risk-takers to make changes in our churches. It's time to act; there's too much at stake to sit on the sidelines. Book jacket.
- Publisher


Meet the Author
Dan Kimball
Dan Kimball is the author of several books including The Emerging Church and popular They Like Jesus But Not The Church (Zondervan). He is one of the pastors of Vintage Faith Church, a missional church planted for engaging the post-Christian culture in Santa Cruz, CA.
He is currently pursuing a Doctor of Ministry from George Fox Evangelical Seminary where he also serves as Adjunct Faculty. Dan speaks extensively around the country on emerging church and culture issues as well as using the arts in worship. He serves on the editorial advisory boards for Youthworker Journal; Outreach Magazine and REV! Magazine.
In the pipeline are books Adventures in Churchland: Discovering the Beautiful Mess Jesus Loves and I Like Jesus But Not The Church
Koorong - Editorial Review.