Emissary (#01 in Legends Of The Realm Series)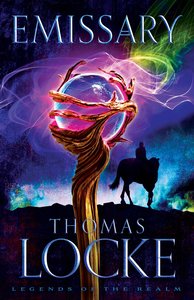 Hyam is a likeable lad who will make a fine farmer someday. But he carries a burden few can fathom. As his mother slips toward death, she implores him to return to Long Hall, where he spent five years as an apprentice. It was there that Hyam's extraordinary capacity for mastering languages came to light--and soon cast him into the shadows of suspicion. How could any human learn the forbidden tongues with such ease? When Hyam dares to seek out the Mistress of the Sorceries, her revelation tears his world asunder.

He has no choice but to set out on the foreboding path--which beckons him to either his destiny or his doom. An encounter with an enchanting stranger reminds him that he is part hero and part captive. As Hyam struggles to interpret the omens and symbols, he is swept up by a great current of possibilities--and dangers.

With lyrical prose that unveils a richly imaginative world, Thomas Locke takes readers on a journey into the Realm. There he invites them to awaken their sense of wonder. This cracking adventure moves like a contemporary thriller but harkens back to the enduring genre of classic fantasy.

- Publisher
You May Also Be Interested In
About "Emissary (#01 in Legends Of The Realm Series)"
Hyam is a likeable lad who will make a fine farmer someday. But he carries a burden few can fathom. As his mother slips toward death, she implores him to return to Long Hall, where he spent five years as an apprentice. It was there that Hyam's extraordinary capacity for mastering languages came to light--and soon cast him into the shadows of suspicion. How could any human learn the forbidden tongues with such ease? When Hyam dares to seek out the Mistress of the Sorceries, her revelation tears his world asunder.

He has no choice but to set out on the foreboding path--which beckons him to either his destiny or his doom. An encounter with an enchanting stranger reminds him that he is part hero and part captive. As Hyam struggles to interpret the omens and symbols, he is swept up by a great current of possibilities--and dangers.

With lyrical prose that unveils a richly imaginative world, Thomas Locke takes readers on a journey into the Realm. There he invites them to awaken their sense of wonder. This cracking adventure moves like a contemporary thriller but harkens back to the enduring genre of classic fantasy.
- Publisher


Meet the Author
Thomas Locke
Davis Bunn is pseudonym used by T. Davis Bunn. Bunn was born in 1952 in North Carolina. He had a finance career that took him around the globe until his first novel, The Presence, was released in 1990. The book became a national bestseller. He has written under the names of Davis Bunn as well as Thomas Locke and Cameron Wolfe. Bunn is a much sought-after speaker for the art of writing and he serves as a Writer in Residence at Regent's Park College, Oxford University.
Other Titles In The "Legends Of The Realm Series" Series View All
$15.12

Nett


Available for immediate download.