Emma's Gift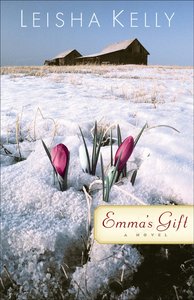 In Leisha Kelly's well-received novel, Julia's Hope, Samuel and Julia Wortham and their two children charmed readers as they found shelter in the home-and heart-of a grandmotherly woman named Emma Graham.
Now, in Emma's Gift, the Wortham family is struck down by the deaths of two close friends, including their neighbor Wilametta Hammond, just days before Christmas 1931. Wila is the mother of ten children and the glue that holds the family together. In his grief, her husband, George, ignores the children and has no will to live. Sam and Julia step in to help, but how can they manage ten extra children when they barely have enough for themselves? Can George overcome his grief and become the father his children need? And if Emma's nephew takes ownership of her land, will the Worthams be allowed to stay?
Masterfully told from the perspective of both Samuel and Julia, Emma's Gift is an unforgettable story of God's faithfulness and peace and of the seasons of life that shape each of us.

- Publisher
You May Also Be Interested In
About "Emma's Gift"
In Leisha Kelly's well-received novel, Julia's Hope, Samuel and Julia Wortham and their two children charmed readers as they found shelter in the home-and heart-of a grandmotherly woman named Emma Graham.
Now, in Emma's Gift, the Wortham family is struck down by the deaths of two close friends, including their neighbor Wilametta Hammond, just days before Christmas 1931. Wila is the mother of ten children and the glue that holds the family together. In his grief, her husband, George, ignores the children and has no will to live. Sam and Julia step in to help, but how can they manage ten extra children when they barely have enough for themselves? Can George overcome his grief and become the father his children need? And if Emma's nephew takes ownership of her land, will the Worthams be allowed to stay?
Masterfully told from the perspective of both Samuel and Julia, Emma's Gift is an unforgettable story of God's faithfulness and peace and of the seasons of life that shape each of us.
- Publisher


Meet the Author
Leisha Kelly
Leisha Kelly is the author of several popular historical fiction books, including Julia's Hope, Emma's Gift, and Till Morning Is Nigh. She has served many years on her local library board, continuing to bring good reads and educational opportunities to her community. Once a waitress, cafe manager, tutor, and EMT, Leisha is now a busy novelist and speaker who is active in the ministries of her church. She lives with her family in Clayton, Illinois.