Empty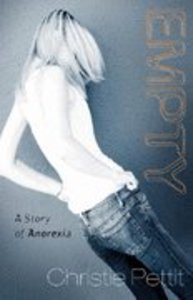 More than five million adolescent girls struggle with eating dis-orders, and more than 80 percent of American women are unhappy with their bodies. Christie Pettit knows these statistics firsthand. As a college student with a tennis scholarship, she found herself eating less and less, compulsively exercising, and spiraling downward in a dangerous battle against anorexia. She was starving--but she didn't know it. Now with a two-color interior, Empty recounts Christie's gripping story, incorporating new statistics, reflections from her journal, and biblical insight. Her candid retelling of her experience shows the spiritual dimension of eating disorders and describes how Christie turned to the Bible as a source of strength and encouragement to help her overcome anorexia. Pastors, parents, counselors, and those battling anorexia--especially teen girls--will find hope and wise counsel in Christie's compelling story.

- Publisher "Everyone who struggles with anorexia--or knows someone who does--should read this vulnerable book."--Les Parrott, Ph.D., Seattle Pacific University, author of Helping the Struggling Adolescent"This book has it all--engaging style, candid disclosure, self-assessment suggestions, self-help activities, and spiritual sensitivity. Christie Pettit opens her personal journal and invites the reader to travel with her on a journey of honesty, hope, and healing. This book is for all those who are struggling with eating disorders and those who love them."--Gary W. Moon, author of Falling for God"Christie's authentic approach to an ever-challenging issue is amazing. Encouraged and guided by her story, many young women will find hope, healing and transformation."--Natalie Nuce, national women's ministry director, Athletes in Action"If you or someone you love struggles with an eating disorder, this is for you! Instead of condemnation you'll find encouragement, instead of despair, you'll receive hope, and in the process you'll feel personally loved by God."--Susan Alexander Yates, author of And Then I Had Teenagers"Christie Pettit speaks straight from the heart about her struggles, infusing us with hope and courage. For those battling eating disorders or supporting loved ones who are, sharing Christie's journey provides true comfort and tangible tools for healing."--Sallie Hershkowitz, vice president, Remuda Ranch Programs for Eating Disorders"Multitudes of teenagers are battling the pain and bondage of eating disorders. Most of today's 'experts' treat symptoms through medication and coping skills, and charge thousands for dollars for 'treatment' in various psychiatric inpatient settings. However, these young girls need to know that freedom is possible, and they need to hear from those who have walked down the road of captivity to being set free. I commend Christie for offering hope to others through sharing her own story. Like Christie, and like so many of the young girls we work with through Mercy Ministries who have struggled for years with an eating disorder, discover how you can also receive the fulfillment and freedom you are seeking."--Nancy Alcorn, founder and president, Mercy Ministries"Christie Pettit speaks to us in these pages with a voice that clearly demonstrates her intimate understanding of the struggles young women with eating disorders experience. But she also presents the hope that these women and their families need to hear if they are to successfully find their way through this extremely challenging dark night. It is a book I endorse with enthusiasm."--Dr. David G. Benner, Ph.D., C. Psych., former clinical director of The Institute for Eating Disorders, distinguished professor of psychology and spirituality, Psychological Studies Institute

- Publisher
You May Also Be Interested In
About "Empty"
More than five million adolescent girls struggle with eating dis-orders, and more than 80 percent of American women are unhappy with their bodies. Christie Pettit knows these statistics firsthand. As a college student with a tennis scholarship, she found herself eating less and less, compulsively exercising, and spiraling downward in a dangerous battle against anorexia. She was starving--but she didn't know it. Now with a two-color interior, Empty recounts Christie's gripping story, incorporating new statistics, reflections from her journal, and biblical insight. Her candid retelling of her experience shows the spiritual dimension of eating disorders and describes how Christie turned to the Bible as a source of strength and encouragement to help her overcome anorexia. Pastors, parents, counselors, and those battling anorexia--especially teen girls--will find hope and wise counsel in Christie's compelling story.
- Publisher

"Everyone who struggles with anorexia--or knows someone who does--should read this vulnerable book."--Les Parrott, Ph.D., Seattle Pacific University, author of Helping the Struggling Adolescent"This book has it all--engaging style, candid disclosure, self-assessment suggestions, self-help activities, and spiritual sensitivity. Christie Pettit opens her personal journal and invites the reader to travel with her on a journey of honesty, hope, and healing. This book is for all those who are struggling with eating disorders and those who love them."--Gary W. Moon, author of Falling for God"Christie's authentic approach to an ever-challenging issue is amazing. Encouraged and guided by her story, many young women will find hope, healing and transformation."--Natalie Nuce, national women's ministry director, Athletes in Action"If you or someone you love struggles with an eating disorder, this is for you! Instead of condemnation you'll find encouragement, instead of despair, you'll receive hope, and in the process you'll feel personally loved by God."--Susan Alexander Yates, author of And Then I Had Teenagers"Christie Pettit speaks straight from the heart about her struggles, infusing us with hope and courage. For those battling eating disorders or supporting loved ones who are, sharing Christie's journey provides true comfort and tangible tools for healing."--Sallie Hershkowitz, vice president, Remuda Ranch Programs for Eating Disorders"Multitudes of teenagers are battling the pain and bondage of eating disorders. Most of today's 'experts' treat symptoms through medication and coping skills, and charge thousands for dollars for 'treatment' in various psychiatric inpatient settings. However, these young girls need to know that freedom is possible, and they need to hear from those who have walked down the road of captivity to being set free. I commend Christie for offering hope to others through sharing her own story. Like Christie, and like so many of the young girls we work with through Mercy Ministries who have struggled for years with an eating disorder, discover how you can also receive the fulfillment and freedom you are seeking."--Nancy Alcorn, founder and president, Mercy Ministries"Christie Pettit speaks to us in these pages with a voice that clearly demonstrates her intimate understanding of the struggles young women with eating disorders experience. But she also presents the hope that these women and their families need to hear if they are to successfully find their way through this extremely challenging dark night. It is a book I endorse with enthusiasm."--Dr. David G. Benner, Ph.D., C. Psych., former clinical director of The Institute for Eating Disorders, distinguished professor of psychology and spirituality, Psychological Studies Institute
- Publisher


Meet the Author
Christie Pettit
Christie Pettit currently works as a counselor of teens, with a specialization in eating disorder recovery. She speaks to groups such as Athletes in Action and writes for publications, including Today's Christian Woman, The Upper Room, and Sports Spectrum. She is also the managing editor of Conversations: A Forum for Authentic Transformation. A graduate of the University of Virginia, Emory University, and the Psychological Studies Institute, Christie lives in Atlanta, Georgia.