Encountering Angels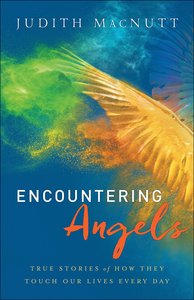 :Leading Expert Demystifies Angels and Their Roles in Our Lives

Angels have long fascinated humanity. From books to movies and TV shows to video games, everyone has their own opinions on who angels are and what they do. With so much information swirling, it is important for Christians to sort out what is biblical and true about these heavenly beings.

In this follow-up to her bestselling Angels Are for Real, author Judith MacNutt helps you separate fact from fiction. With warmth and insight, she shows you
· the scriptural foundation for angels
· their purposes here and in heaven
· their role as protectors of children
· how they comfort, protect, and worship with us
· their role in spiritual warfare

Full of amazing encounters and inspiring stories, you will come away encouraged and awed by God's provision for us through angels.

- Publisher
You May Also Be Interested In
About "Encountering Angels"
:Leading Expert Demystifies Angels and Their Roles in Our Lives

Angels have long fascinated humanity. From books to movies and TV shows to video games, everyone has their own opinions on who angels are and what they do. With so much information swirling, it is important for Christians to sort out what is biblical and true about these heavenly beings.

In this follow-up to her bestselling Angels Are for Real, author Judith MacNutt helps you separate fact from fiction. With warmth and insight, she shows you
· the scriptural foundation for angels
· their purposes here and in heaven
· their role as protectors of children
· how they comfort, protect, and worship with us
· their role in spiritual warfare

Full of amazing encounters and inspiring stories, you will come away encouraged and awed by God's provision for us through angels.
- Publisher


Meet the Author
Judith Macnutt
Francis MacNutt, an internationally respected authority on renewal and healing, is the author of HEALING and the joint author, with his wife Judith, of PRAYING FOR YOUR UNBORN CHILD. Judith MacNutt and her husband Francis are widely known for their healing ministry and together they wrote PRAYING FOR YOUR UNBORN CHILD.