Encountering the New Testament (3rd Edition) (Encountering Biblical Studies Series)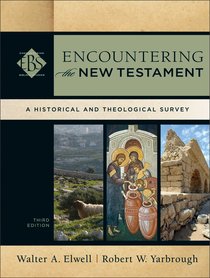 Studying the New Testament can be an exciting--and intimidating--experience. This readable survey is designed to make the adventure less daunting and more rewarding. Two experienced classroom teachers offer a new edition of their bestselling and award-winning textbook, now with updated content and a new interior design.

Other distinguishing features include:
• abundant images, maps, and charts--all in full color
• sidebars that address ethical and theological concerns and provide primary source material
• focus boxes isolating key issues
• chapter outlines, learning objectives, and summaries
• study questions

An accompanying website will offer a wide array of resources for students and professors. Resources for students include flash cards, self quizzes, and chapter summaries. Resources for professors include suggestions for class activities as well as an instructor's manual and test bank.

Students of the New Testament will find this introductory text both informative and engaging.

- Publisher
You May Also Be Interested In
About "Encountering the New Testament (3rd Edition) (Encountering Biblical Studies Series)"
Studying the New Testament can be an exciting--and intimidating--experience. This readable survey is designed to make the adventure less daunting and more rewarding. Two experienced classroom teachers offer a new edition of their bestselling and award-winning textbook, now with updated content and a new interior design.

Other distinguishing features include:
• abundant images, maps, and charts--all in full color
• sidebars that address ethical and theological concerns and provide primary source material
• focus boxes isolating key issues
• chapter outlines, learning objectives, and summaries
• study questions

An accompanying website will offer a wide array of resources for students and professors. Resources for students include flash cards, self quizzes, and chapter summaries. Resources for professors include suggestions for class activities as well as an instructor's manual and test bank.

Students of the New Testament will find this introductory text both informative and engaging.
- Publisher


Meet the Authors
Walter Elwell
Walter A. Elwell (Ph.D., University of Edinburgh) is emeritus professor of biblical and theological studies at Wheaton College. He has edited numerous biblical reference works, including the Baker Theological Dictionary of the Bible, The Evangelical Dictionary of Theology and Encountering the New Testament. Most recently he has edited The Hendrickson Topical Bible.
Robert W Yarbrough
Robert W. Yarbrough (PhD, University of Aberdeen) is chair of the New Testament department and associate professor of New Testament at Trinity Evangelical Divinity School. He has authored, coauthored, or translated a number of books, including the groundbreaking textbook Encountering the New Testament. He is also coeditor of the Baker Exegetical Commentary on the New Testament series, completing the volume of 1-3 John himself, and is the author of the Pastoral Epistles (Pillar New Testament Commentary).
-Editorial Review.
Table Of Contents
Studying The New Testament Can Be An Exciting--and Intimidating--experience. This Readable Survey Is Designed To Make The Adventure Less Daunting And More Rewarding. Two Experienced Classroom Teachers Offer A New Edition Of Their Bestselling And Award-winning Textbook, Now With Updated Content And A New Interior Design.

Other Distinguishing Features Include:
• Abundant Images, Maps, And Charts--all In Full Color
• Sidebars That Address Ethical And Theological Concerns And Provide Primary Source Material
• Focus Boxes Isolating Key Issues
• Chapter Outlines, Learning Objectives, And Summaries
• Study Questions

An Accompanying Website Will Offer A Wide Array Of Resources For Students And Professors. Resources For Students Include Flash Cards, Self Quizzes, And Chapter Summaries. Resources For Professors Include Suggestions For Class Activities As Well As An Instructor's Manual And Test Bank.

Students Of The New Testament Will Find This Introductory Text Both Informative And Engaging.
Other Titles In The "Encountering Biblical Studies" Series View All