Encouraging Others: Biblical Models For Caring (Fisherman Bible Studyguide Series)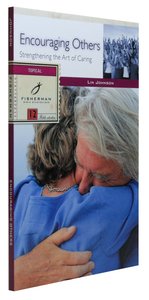 $11.99
$9.59
You Save: $2.40 (20%)
Paperback
As God's people live out their faith in this world, they need advice, challenge, and encouragement to persevere. Sometimes we need a reminder that we can be "spiritual cheerleaders" for other believers. These studies give models from Scripture for encouraging others and building them up in their faith, showing that as we support others, the blessing of encouragement comes back to us.
You May Also Be Interested In
About "Encouraging Others: Biblical Models For Caring (Fisherman Bible Studyguide Series)"
As God's people live out their faith in this world, they need advice, challenge, and encouragement to persevere. Sometimes we need a reminder that we can be "spiritual cheerleaders" for other believers. These studies give models from Scripture for encouraging others and building them up in their faith, showing that as we support others, the blessing of encouragement comes back to us.
- Koorong

As God's people live out their faith in this world, they need advice, challenge, and encouragement to persevere in their goal of becoming like Christ. You can be a "spiritual cheerleader" for other believers. These studies will give you models from Scripture for encouraging others and building them up in their faith. And as you support others, the blessing of encouragement will come back to you.
- Publisher

Build Others Up!

As God's people live out their faith in this world, they need advice, challenge, and encouragement to persevere. Sometimes we need a reminder that we can be "spiritual cheerleaders" for other believers. These studies give models from Scripture for encouraging others and building them up in their faith, showing that as we support others, the blessing of encouragement comes back to us.
- Publisher


Meet the Author
L Johnson
LIN JOHNSON is Managing Editor of "The Christian Communicator, Advanced Christian Writer" and "Church Libraries" and is the author and co-author of more than 60 books, including "Christian Education: Foundations for the Future, Extracting the Precious from 2nd Corinthians, Encouraging Others", and "The Book of John" from The Smart Guide to the Bible Series. Lin specializes in Bible curriculum and is a Gold Medallion Book Award recipient. She also directs the Write-to-Publish Conference in the Chicago area and teaches at writers' conferences across the country and internationally. Lin resides i
Other Titles In The "Fisherman Bible Studyguide" Series View All