English Grammar to Ace New Testament Greek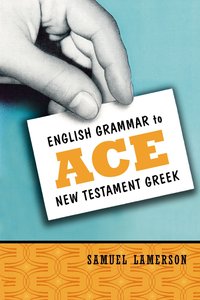 If you think that ... • Aorist is a major artery of the heart • Clause is the surname of the fat guy in the red suit • Syntax is Uncle Sam's slice of alcohol and tobacco sales ... then you need English Grammar to Ace New Testament Greek. It's designed to help you get a quick brush-up on the English grammar you've either forgotten or never quite learned, in a way that ties directly to your first-year Greek studies. With chapters such as "You Ain't Nothing but a Noun Dog" and "Inflection: Trouble Understanding Yoda You Have, Yes?" this colorful, entertaining book compares elements of English grammar with similar elements in Greek grammar. It can either be used as a one-week intensive study to prepare for Greek grammar, or be readily incorporated into actual Greek studies. English Grammar to Ace New Testament Greek features: • A brief summary of the scope of English grammar • Short, easy-to-read chapters • An introductory devotion in every chapter • Lessons coordinated with Mounce's Basics of Biblical Greek • Tips for vocabulary memorization and sentence diagramming • Glossary
- Publisher
You May Also Be Interested In
About "English Grammar to Ace New Testament Greek"
If you think that ... • Aorist is a major artery of the heart • Clause is the surname of the fat guy in the red suit • Syntax is Uncle Sam's slice of alcohol and tobacco sales ... then you need English Grammar to Ace New Testament Greek. It's designed to help you get a quick brush-up on the English grammar you've either forgotten or never quite learned, in a way that ties directly to your first-year Greek studies. With chapters such as "You Ain't Nothing but a Noun Dog" and "Inflection: Trouble Understanding Yoda You Have, Yes?" this colorful, entertaining book compares elements of English grammar with similar elements in Greek grammar. It can either be used as a one-week intensive study to prepare for Greek grammar, or be readily incorporated into actual Greek studies. English Grammar to Ace New Testament Greek features: • A brief summary of the scope of English grammar • Short, easy-to-read chapters • An introductory devotion in every chapter • Lessons coordinated with Mounce's Basics of Biblical Greek • Tips for vocabulary memorization and sentence diagramming • Glossary
- Publisher
Meet the Author
Samuel Lamerson
Samuel Lamerson (PhD, Trinity Evangelical Divinity School) is assistant professor of New Testament at Knox Theological Seminary in Fort Lauderdale, Florida.
Table Of Contents
if You Think That ... • Aorist Is A Major Artery Of The Heart • Clause Is The Surname Of The Fat Guy In The Red Suit • Syntax Is Uncle Sam's Slice Of Alcohol And Tobacco Sales ... Then You Need English Grammar To Ace New Testament Greek. It's Designed To Help You Get A Quick Brush-up On The English Grammar You've Either Forgotten Or Never Quite Learned, In A Way That Ties Directly To Your First-year Greek Studies. With Chapters Such As "you Ain't Nothing But A Noun Dog" And "inflection: Trouble Understanding Yoda You Have, Yes?" This Colorful, Entertaining Book Compares Elements Of English Grammar With Similar Elements In Greek Grammar. It Can Either Be Used As A One-week Intensive Study To Prepare For Greek Grammar, Or Be Readily Incorporated Into Actual Greek Studies. English Grammar To Ace New Testament Greek Features: • A Brief Summary Of The Scope Of English Grammar • Short, Easy-to-read Chapters • An Introductory Devotion In Every Chapter • Lessons Coordinated With Mounce's Basics Of Biblical Greek • Tips For Vocabulary Memorization And Sentence Diagramming • Glossary

Acknowledgments 9

Introduction 11

1. Nouns: You Ain't Nothing But A Noun Dog! (bbg Ch. 5) 15

2. Inflection: Trouble Understanding Yoda You Have, Yes? Tne Nature Of Inflected Languages. (bbg Ch. 6) 21

3. The Article: The Rosetta Stone Of The Greek Language, Or The Article Is Your Friend, The Other One Is A Relative. (bbg Ch. 7) 26

4. Adjective: What Color Is An Adjective? The Carnival Talkers Of Thegreek World. (bbg Ch. 9) 31

5. Pronoun: A Noun That Has Lost Its Amateur Status. (bbg Ch. 11) 37

6. Verbs:verbs Have Things To Do. (bbg Ch. 15) 41

7. Present: Keep Reading This: The Present Tense (bbg Ch. 16) 47

8. Contraction: Contract Verbs Kill No One. (bbg Ch. 17) 50

9. Passive Verbs: They Don't Just Sit There. (bbg Ch. 18) 54

10. Deponents: Verbs That Have A Memory Problem. (bbg Ch. 18) 58

11. Future: When Are You Going To Read This? (bbg Ch. 19) 62

12. Verbs Again: Principal Parts And The Art Of Motorcycle Maintenance. (bbg Ch. 20) 66

13. Aorist: You Have Already Read This Chapter, Haven't You? (bbg Ch. 22) 71

14. Perfect: That Which Is Perfect Has Come (but It Is Not This Chapter). (bbg Ch. 25) 75

15. Participles: The Fiji Mermaid Of The Greek World, Or Why Adverbial Participles Don't Wear A Watch. (bbg Ch. 26) 79

16. Conditional Sentences: If I Were You, I Would Read This Chapter. (bbg Ch. 31) 85

17. Infinitives: To Boldly Go Where No Man Has Gone Before: The World's Most Famous Split Infinitive. (bbg Ch. 32) 90

18. Imperatives: Read This Chapter! The Bosses Of The Greek World. (bbg Ch. 33) 96

Appendix 1: Glossary Of Terms100

Appendix 2: Tips For Remembering Vocabulary107

Appendix 3: Sentence Diagramming For Greek Fun And Profit109
Customer Reviews For "English Grammar to Ace New Testament Greek"
Write Your Own Review
Great for English grammar
By Eric,

Apr 03 2017
Often before we learn a foreign language (either living or dead) we need to be familiar with grammatical concepts in our own language. Once upon a time students had grammar drilled into them and had to parse sentences correctly to get a passing grade in English but these days grammar isn't taught as it once was. Without knowing verbal differences (intransitive, transitive, reflexive etc) it's extremely difficult to diagnose and correctly parse sentences in a foreign language. This is where this book comes in handy. It's not a book of biblical Greek as such but mainly a book about English grammar which uses very small amounts of Koine Greek to help the student understand the similarities and differences between the grammar of English and the grammar of New Testament Greek. If you're about to start studying Koine Greek but grammatical terms such as "infinitive" and "split infinitive" are beyond you then I'd suggest buying this book in addition to a book about New Testament Greek. If you're well acquainted with grammatical principles andor have learnt a foreign language before then you might want to give this book a miss. The caveat here is how well acquainted you are with grammar. If you're not a master of grammatical concepts then this book will bring you up to speed and facilitate second language learning. I think it's worth the investment personally.
---
A Helpful Resource
By Tim,

Oct 03 2016
I read this before coming to college to review my english grammar and begin to get my head around the terms and ideas in Greek grammar. I found it so helpful. It mean that things weren't so foreign when I stepped into the classroom. I have also been referring back to it for help throughout the year when I have been finding particular subjects hard. Its a great little book.
{{review.title}}
By {{review.author.name}},

{{review.reviewCreatedDate | date:'MMM dd yyyy'}}

{{reviewdescription}}
{{review.text}}
---