Entering Into the Promise: Joshua Through 1 & 2 Samuel (What The Bible Is All About Bible Study Series)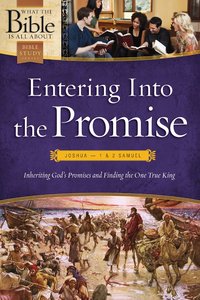 What the Bible Is All About Study Guides for small group and individual study give readers the big picture of God's plan of the ages laid out from Genesis to Revelation and show how Jesus is revealed on every page of Scripture. Through 12 sessions of study, they offer trustworthy, proven biblical content, including background commentary, lesson aims for groups, leader's guide and tips, and much more.

Entering into the Promise gives readers a strategic view of the books of Joshua, Judges, Ruth, and 1-2 Samuel and shows how the Lord faithfully brought His people into the Promised Land and into all His promises for them. Readers will learn how God will bring us into the promises He has for our lives, and also about trusting and obeying God and how God shows His faithfulness.

- Publisher
You May Also Be Interested In
About "Entering Into the Promise: Joshua Through 1 & 2 Samuel (What The Bible Is All About Bible Study Series)"
What the Bible Is All About Study Guides for small group and individual study give readers the big picture of God's plan of the ages laid out from Genesis to Revelation and show how Jesus is revealed on every page of Scripture. Through 12 sessions of study, they offer trustworthy, proven biblical content, including background commentary, lesson aims for groups, leader's guide and tips, and much more.

Entering into the Promise gives readers a strategic view of the books of Joshua, Judges, Ruth, and 1-2 Samuel and shows how the Lord faithfully brought His people into the Promised Land and into all His promises for them. Readers will learn how God will bring us into the promises He has for our lives, and also about trusting and obeying God and how God shows His faithfulness.
- Publisher


Meet the Author
Henrietta Mears
DR. HENRIETTA C. MEARS is well known as the teacher of some of the most influential Christian leaders of our time, including Billy Graham and Bill Bright. She was the founder of Gospel Light, GLINT and Forest Home Christian Conference Center, and the author of the best-selling Bible handbook What the Bible is All About. Miss Mears died on March 20, 1963, leaving behind a ministry that still thrives today.
Other Titles In The "What The Bible Is All About Bible Study" Series View All
$15.99




Order now to secure your copy when our stock arrives. eBook is Available. 0 Available. Expected to ship in 6 to 7 weeks from Australia.

Formats

$23.99




Order now to secure your copy when our stock arrives. 0 Available. Expected to ship in 6 to 7 weeks from Australia.

$15.99




Order now to secure your copy when our stock arrives. eBook is Available. 0 Available. Expected to ship in 6 to 7 weeks from Australia.

Formats