Ephesians (Abingdon New Testament Commentaries Series)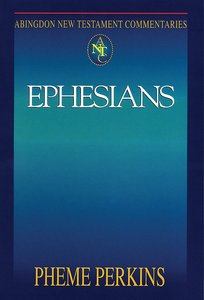 "Too many Bible commentaries are written these days. The new Abingdon New Testament Commentaries series, however, promises to be something different. It is very clearly focused with regard to its audience (theological and other students in upper-level college or university settings), its aim (careful, critical exegesis based on the most recent scholarship, but not encumbered by it), its structure (literary analysis, exegetical analysis, theological and ethical analysis within the original setting of the texts), and its admirably modest size (an average of about 240 pages)".

- Publisher In this volume, Pheme Perkins mines the writings from Nag Hammadi and Qumran for illuminating parallels to Ephesians, showing how a first-century audience would have heard and responded to the various parts of the letter. Under her sure guidance, contemporary readers are led to see the rhetorical power and the theological depth of this pseudonymous letter.

- Publisher
You May Also Be Interested In
About "Ephesians (Abingdon New Testament Commentaries Series)"
"Too many Bible commentaries are written these days. The new Abingdon New Testament Commentaries series, however, promises to be something different. It is very clearly focused with regard to its audience (theological and other students in upper-level college or university settings), its aim (careful, critical exegesis based on the most recent scholarship, but not encumbered by it), its structure (literary analysis, exegetical analysis, theological and ethical analysis within the original setting of the texts), and its admirably modest size (an average of about 240 pages)".
- Publisher

In this volume, Pheme Perkins mines the writings from Nag Hammadi and Qumran for illuminating parallels to Ephesians, showing how a first-century audience would have heard and responded to the various parts of the letter. Under her sure guidance, contemporary readers are led to see the rhetorical power and the theological depth of this pseudonymous letter.
- Publisher


Meet the Author
Pheme Perkins
Pheme Perkins (Ph.D., Harvard University) is professor of New Testament in the Theology Department at Boston College. Among her many published books are Reading the New Testament; Gnosticism and the New Testament; Galatians; Ephesians (Abingdon New Testament Commentary) and the Politics of Faith and Peter: Apostle for the Whole Church and most recently Introduction to the Synoptic Gospels.
Other Titles In The "Abingdon New Testament Commentaries" Series View All