Ephesians and Colossians (Paideia Commentaries On The New Testament Series)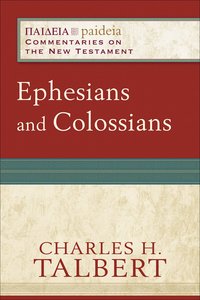 Ephesians and Colossians is the first of eighteen volumes in the new Paideia commentary series. This series approaches each text in its final, canonical form, proceeding by sense units rather than word-by-word or verse-by-verse. Each sense unit is explored in three sections: (1) introductory matters, (2) tracing the train of thought, (3) key hermeneutical and theological questions. The commentaries shed fresh light on the text while avoiding idiosyncratic readings, attend to theological meaning without presuming a specific theological stance in the reader, and show how the text uses narrative and rhetorical strategies from the ancient educational context to form and shape the reader. Professors, graduate and seminary students, and pastors will benefit from this readable commentary, as will theological libraries.

- Publisher
You May Also Be Interested In
About "Ephesians and Colossians (Paideia Commentaries On The New Testament Series)"
Ephesians and Colossians is the first of eighteen volumes in the new Paideia commentary series. This series approaches each text in its final, canonical form, proceeding by sense units rather than word-by-word or verse-by-verse. Each sense unit is explored in three sections: (1) introductory matters, (2) tracing the train of thought, (3) key hermeneutical and theological questions. The commentaries shed fresh light on the text while avoiding idiosyncratic readings, attend to theological meaning without presuming a specific theological stance in the reader, and show how the text uses narrative and rhetorical strategies from the ancient educational context to form and shape the reader. Professors, graduate and seminary students, and pastors will benefit from this readable commentary, as will theological libraries.
- Publisher


Meet the Author
Charles H Talbert
Charles H. Talbert (Ph.D., Vanderbilt University) is distinguished professor of religion at Baylor University. He is the author of many books, including Reading the Sermon on the Mount; Reading Romans, Reading Acts: A Literary and Theological Commentary on the Acts of the Apostles and the forthcoming volumes in the Paideia New Testament Commentary series on Ephesians-Colossians and Matthew.
His most recent works are Getting "Saved": The Whole Story of Salvation in the New Testament (with Jason A. Whitlark, Eerdmans, 2011); Romans (Smyth & Helwys Bible Commentary) and The Development of Christology During the First Hundred Years: And Other Essays on Early Christian Christology (Supplements to Novum Testamentum, Brill, 2011)
Koorong -Editorial Review.
Table Of Contents
Ephesians And Colossians Is The First Of Eighteen Volumes In The New Paideia Commentary Series. This Series Approaches Each Text In Its Final, Canonical Form, Proceeding By Sense Units Rather Than Word-by-word Or Verse-by-verse. Each Sense Unit Is Explored In Three Sections: (1) Introductory Matters, (2) Tracing The Train Of Thought, (3) Key Hermeneutical And Theological Questions. The Commentaries Shed Fresh Light On The Text While Avoiding Idiosyncratic Readings, Attend To Theological Meaning Without Presuming A Specific Theological Stance In The Reader, And Show How The Text Uses Narrative And Rhetorical Strategies From The Ancient Educational Context To Form And Shape The Reader. Professors, Graduate And Seminary Students, And Pastors Will Benefit From This Readable Commentary, As Will Theological Libraries.
Other Titles In The "Paideia Commentaries On The New Testament Series" Series View All