Espiritualidad Emocionalmente Sana - Gua De Estudio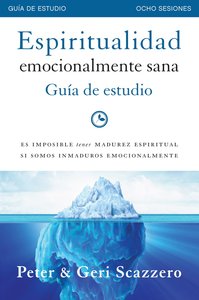 Para quienes desean tomar los pasos en su fe cristiana y discipulado, para liberarse de las ataduras del pasado y experimentar la sanidad, Espiritualidad emocionalmente sana es un estudio b blico de ocho sesiones con video sobre la integraci n de la salud emocional y la espiritualidad contemplativa. Muchos seguidores de Cristo, que est n realmente apasionados por Dios, se unen a una iglesia, participan semanalmente en un grupo peque o, sirven con sus dones, y quienes son considerados maduros, permanecen estancados a un nivel de inmadurez espiritual, especialmente cuando enfrentan conflictos y crisis interpersonales. El estudio en video Espiritualidad emocionalmente sana y la gu a de estudio que lo acompa a, ofrecen una estrategia para que el discipulado aborde este vac o, ofreciendo poderosos caminos hacia la transformaci n que ayudar a las personas maduras a llegar a una fe llena de autenticidad y un profundo amor a Dios.Las ocho sesiones incluyen:1.El problema de la espiritualidad emocionalmente no sana.2.Saber que puedes conocer a Dios.3.Retroceder para avanzar hacia adelante.4.Viaje a trav s de la pared.5.Expandir tu alma a trav s del dolor y la p rdida.6.Descubrir el ritmo de las Oficio diario y el Sabbat.7.Crecer en un adulto emocionalmente sano.8.Tomar el siguiente paso para desarrollar una regla de vida .

- Publisher
You May Also Be Interested In
About "Espiritualidad Emocionalmente Sana - Gua De Estudio"
Para quienes desean tomar los pasos en su fe cristiana y discipulado, para liberarse de las ataduras del pasado y experimentar la sanidad, Espiritualidad emocionalmente sana es un estudio b blico de ocho sesiones con video sobre la integraci n de la salud emocional y la espiritualidad contemplativa. Muchos seguidores de Cristo, que est n realmente apasionados por Dios, se unen a una iglesia, participan semanalmente en un grupo peque o, sirven con sus dones, y quienes son considerados maduros, permanecen estancados a un nivel de inmadurez espiritual, especialmente cuando enfrentan conflictos y crisis interpersonales. El estudio en video Espiritualidad emocionalmente sana y la gu a de estudio que lo acompa a, ofrecen una estrategia para que el discipulado aborde este vac o, ofreciendo poderosos caminos hacia la transformaci n que ayudar a las personas maduras a llegar a una fe llena de autenticidad y un profundo amor a Dios.Las ocho sesiones incluyen:1.El problema de la espiritualidad emocionalmente no sana.2.Saber que puedes conocer a Dios.3.Retroceder para avanzar hacia adelante.4.Viaje a trav s de la pared.5.Expandir tu alma a trav s del dolor y la p rdida.6.Descubrir el ritmo de las Oficio diario y el Sabbat.7.Crecer en un adulto emocionalmente sano.8.Tomar el siguiente paso para desarrollar una regla de vida .
- Publisher


Meet the Author
Peter Scazzero
Pete Scazzero (M Div, Gordon-Conwell Theological Seminary) has received widespread recognition for building a large, multi-cultural, multi-racial church, with more than fifty-five nations represented, in America's most ethnically diverse neighborhood. In 1987, Pete and Geri Scazzero founded New Life Fellowship, a flagship congregation for an association of churches. Today the movement includes five different congregations across New York City (four in English, one in Spanish), and two overseas (Dominican Republic and Colombia).