Esther (Niv Application Commentary Series)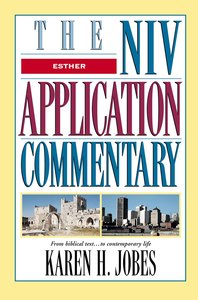 Esther's story is one of the great teaching resources of the church. This addition to the NIVAC examines this story of intrigue and brings its message alive for contemporary Christians who, like Esther, live in a world often hostile to their values and where God is unseen. 256 pages, from Zondervan
Also Available In
You May Also Be Interested In
This item is in the following kit
About "Esther (Niv Application Commentary Series)"
Esther's story is one of the great teaching resources of the church. This addition to the NIVAC examines this story of intrigue and brings its message alive for contemporary Christians who, like Esther, live in a world often hostile to their values and where God is unseen. 256 pages, from Zondervan
- Koorong

Esther, which is part of the NIV Application Commentary Series, helps readers learn how the message of Esther can have the same powerful impact today that it did when it was first written.
- Publisher

The NIV Application Commentary on Esther explains not only what the book of Esther meant to its original readers but also how it can speak powerfully to Christians today. This biblical narrative tells today's Christians about God without actually mentioning him.
- Publisher


Meet the Author
Karen H Jobes
Karen H. Jobes is the Gerald F. Hawthorne Professor of New Testament Greek and Exegesis at Wheaton College. She is the author of many articles and several books, including The NIV Application Commentary: Esther.
Other Titles In The "Niv Application Commentary" Series View All