Etched...Upon My Heart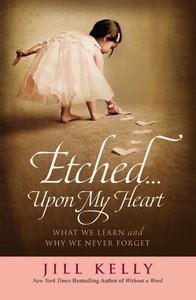 Every Christian parent today wrestles with the challenge of how to raise kids in a God-honoring, morally sound way. In ETCHED . . . UPON MY HEART, Jill Kelly offers up the unforgettable episodes of her life-some sorrowful, others filled with joy-as a "living epistle" to her daughters. For the many other Christian mothers who also long to pass on their hard-won knowledge of God's steadfast love and healing grace to their children, Kelly's down-to-earth reflections provide an inspiring example.

As she writes, "God will break our hearts, but He will hold the pieces. He will cradle us and redeem every tear we cry." Although great personal pain-her young son Hunter's death, her husband's infidelity-informs these pages, Kelly's story is ultimately one of forgiveness, reconciliation, and hope. Through the moments in time that Jill Kelly recounts, readers will recognize the daily reality and eternal value of God's plan for their own lives.

- Publisher
You May Also Be Interested In
About "Etched...Upon My Heart"
Every Christian parent today wrestles with the challenge of how to raise kids in a God-honoring, morally sound way. In ETCHED . . . UPON MY HEART, Jill Kelly offers up the unforgettable episodes of her life-some sorrowful, others filled with joy-as a "living epistle" to her daughters. For the many other Christian mothers who also long to pass on their hard-won knowledge of God's steadfast love and healing grace to their children, Kelly's down-to-earth reflections provide an inspiring example.

As she writes, "God will break our hearts, but He will hold the pieces. He will cradle us and redeem every tear we cry." Although great personal pain-her young son Hunter's death, her husband's infidelity-informs these pages, Kelly's story is ultimately one of forgiveness, reconciliation, and hope. Through the moments in time that Jill Kelly recounts, readers will recognize the daily reality and eternal value of God's plan for their own lives.
- Publisher


Meet the Author
Jill Kelly
Jill Kelly is the wife of former Buffalo Bills quarterback Jim Kelly. In September 1997, three months after their infant son, Hunter, was diagnosed with a fatal disease called Krabbe Leukodystrophy, Jim and Jill founded the Hunter's Hope Foundation. As chairman of the board of Hunter's Hope, Jill helps children suffering from Leukodystrophy and their families by raising awareness and research funds to fight this devastating disease. She and Jim live in Buffalo, NY, with their two daughters and three dogs. Hunter's Hope Foundation can be found online at http://www.huntershope.org . Half of all royalties will go to the Hunter's Hope Foundation. Jill is also the author of a full color gift book entitled, Prayers for Those Who Grieve.