Eventide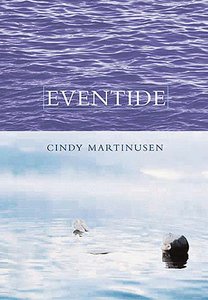 Eventide: the time from when the sun begins to set until total darkness has descended. . . It was once of those magical seasons that lives forever in memory.

An Italian seaside village. Days of adventure and romantic exploration. Moonlight swims in a sparkling sea. A once-in-a-lifetime love.

Though it ended in heartbreak, and she moved on to marry happily and have a son, Carrie never quite put that summer behind her. Now she's dying young and still haunted by thoughts of her long-ago love.

Her best friend Lauren, determined to put Carrie's mind at ease, sets out to do something completely foreign to her own cautious, conservative nature. Out of love, Lauren will find and confront the man she despises, the man who broke her best friend's heart, the man who has spent the last twenty years running from his past.

Out of love, she will journey alone to retrieve secrets left behind after that never-for-gotten summer. And somehow, she will set into motion events that change nothing. . . but transform everything.

As the mysteries of twenty years unravel, as husband and son and friend and even a long-lost love converge to say goodbye, something unexpected unfolds.

Another seaside adventure. Another moonlight swim. And somehow, even at eventide, the miracle of enduring grace.


- Publisher
You May Also Be Interested In
About "Eventide"
Eventide: the time from when the sun begins to set until total darkness has descended. . . It was once of those magical seasons that lives forever in memory.

An Italian seaside village. Days of adventure and romantic exploration. Moonlight swims in a sparkling sea. A once-in-a-lifetime love.

Though it ended in heartbreak, and she moved on to marry happily and have a son, Carrie never quite put that summer behind her. Now she's dying young and still haunted by thoughts of her long-ago love.

Her best friend Lauren, determined to put Carrie's mind at ease, sets out to do something completely foreign to her own cautious, conservative nature. Out of love, Lauren will find and confront the man she despises, the man who broke her best friend's heart, the man who has spent the last twenty years running from his past.

Out of love, she will journey alone to retrieve secrets left behind after that never-for-gotten summer. And somehow, she will set into motion events that change nothing. . . but transform everything.

As the mysteries of twenty years unravel, as husband and son and friend and even a long-lost love converge to say goodbye, something unexpected unfolds.

Another seaside adventure. Another moonlight swim. And somehow, even at eventide, the miracle of enduring grace.

- Publisher


Meet the Author
Cindy Martinusen
Cindy Martinusen is the author of several novels including Eventide, Orchid House and Winter Passing, a Christy Award Finalist. Her novel The Salt Garden was heralded by Library Journal as one of the five best Christian fiction books of 2004.
-Editorial Review.
Excerpt
Excerpt from: Eventide
Prologue
1989--Italy
It was momentary and often overlooked, though it happened everyday.
A glance toward the eventide had stopped Carrie before, made her consider all the sunsets she'd missed, but never a pause with such foreboding. The sunset had been dramatic as Carrie, with Lauren and Graham, walked the cobblestone path along the village seashore. Now the light settled down, bringing a dark feeling of change. She quickly made a joke and laughed to avoid whatever warning this night attempted to bring.
"Beat you to the water," she said and started running.
Lauren raced after her until they reached the shore, where they kicked off their sandals to let the smooth Mediterranean waters cover their feet.
"I beat you," Carrie called, though Lauren had been ahead of her.
"Oh, no, you didn't," Lauren said, reaching down to splash water Carrie's way.
Graham approached more slowly, watching them as he came, the silent observer.
"We should swim," Carrie said, gazing farther out. Each wave slid softly over the pebbled shore to wrap around their feet. Behind them, strands of jazz played somewhere; the sounds of laughter and conversation in robust Italian tones filtered down from the village.
"It's nearly dark," Lauren said.
"Yes, it's nearly dark," Graham echoed as he came to Carrie's side. She laughed at his smile, remembering their night in this very place, swimming in streams of moonlight.
"And the Benders are expecting us for dinner," Lauren reminded.
Carrie sighed, thinking how perfect it'd be to swim in waves turning a deep chrome blue.
"Oh, it's the eventide," Carrie said, staring at the light on the horizon, the evidence of the sun's staged bow and exit into the sea.
Lauren unwound a string of seaweed from her feet.
Standing beside Carrie, Graham stared in silence at the liquid rhythms that met the last stretches of light on the horizon. His fingers wove through hers, and Carrie felt the electric tingles of his touch. She wondered if that sensation would ever subside--how she hoped it never would.
"Surely you have a poem or quote for this moment, Lauren," Carrie said.
Lauren splashed softly through the water to Carrie's other side. "Well, hmm, as Longfellow wrote, 'The day is done, and the darkness falls from the wings of Night.' I could go on."
"Yes, do," Graham said in an interested tone that pleased Carrie. Graham had tried to bridge the rift that had come at Lauren's arrival in Italy a few weeks earlier.
"'As a feather is wafted downward from an eagle in his flight.' That's enough," Lauren said firmly, though she smiled at them both.
"Lauren does this all the time--remembers the best quotes and says them at just the right moment. I wish I had such a memory." Carrie took Lauren's hand and pulled her closer. Now all three faced the darkening horizon.
Carrie knew the discomfort between Lauren and Graham would improve in time. It was her love for both of them that brought them together on this bella noche.
We each have our secrets. Is that what keeps Graham and Lauren at a distance? Perhaps soon we will give what we carry to one another, our burdens lightened at last.
"We should get back," Lauren said, then took a step away. "Or, I could go if you guys want . . . you know, some time alone. We only have a few more days left."
"Then back to America," Carrie whispered, wondering how to ever leave this perfect summer in Italy. Would it all disappear once the real world returned, become like a dream or a story once told?
"I really am American through and through," Lauren said. "And I'm so happy to be traveling home with an escort. The getting here alone nearly did me in."
Carrie laughed. "Well, next trip to Europe, you'll have to come for the entire vacation, not leave your best friend to jaunt around while you sit behind an office desk."
"Next trip to Europe, eh? Oh, to be back to Coke that tastes like Coke," Lauren said.
"Back to hamburgers and fries," Graham added.
"Back to jobs, responsibilities, and routines." Carrie frowned and was surprised by the warmth of Graham's kiss on her cheek.
"Always my free-spirited Carrie," Graham said softly near her ear.
Lauren stepped away. "It's getting dark. I'm going back to the pensioni."
Carrie turned to Graham and studied his face in the deepening night. Their eyes spoke of a deep longing and of summer days. "I guess we should go back too, not send her along alone."
"Yes, and we have a few more days together."
"And our entire future," Carrie said, then called to Lauren, "Wait, we'll come with you."
They turned from the sea, sand clinging to their wet feet. Shoes in hand, they climbed the steps back toward the promenade, back into the village lights, where Italians and tourists meandered along the narrow streets and village plaza. Carrie glanced back, then stopped. Lauren waited a few steps ahead with Graham beside her. Darkness had overcome the sea and sky except for a thin line of deep red that faded to a hazy blue and black. The stars were taking their places, shaking off sleep and tired eyes. Carrie thought how easy it was to miss the vast wonders within each day.
"Good night to the sea, to the sun and the day. We have plenty more together."
Carrie felt sudden meaning in how they all stood in this moment. An eventide foreboding. A time that was the end of something. What would they find in the time to come?
"That is a promise," Carrie said, then to Lauren and Graham, "Promise?"
"What are we promising?" Lauren asked.
"To be together always. No matter what the future holds, let's promise to stay close and never let life steal us away from moments like this. Moments together."
They both hesitated. Carrie met their eyes and sensed their unspoken commitments.
She wouldn't let worries or apprehension take over these final Italian days. Someday they'd look back at the years since this moment and tell the stories of this summer and of the time between. This night would be a marker in her life, the ending of one age and the beginning of another.
And anyway, that someday was surely a long way off.