Every Man Bss: Being God's Man as a Satisfied Single (Every Man Bible Studies Series)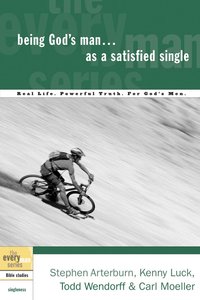 You may be single by choice or circumstance. You may plan to marry and have a family, or you may sense a call to lifelong singleness. Even so, your situation is God's will for you now. What will you do with it? What will you learn from it? And how will you survive the temptations confronting singles in this world?

You know firsthand that single men face unique spiritual and moral struggles. Character is the cornerstone of being God's man as a single in today's culture. To live successfully out of a commitment to Christ, you as a single man must master the issues of sexual integrity, isolation, contentment, spiritual battle, and identity in Christ. BEING GOD'S MAN. . . AS A SATISFIED SINGLE is designed to help you do just that.


- Publisher
You May Also Be Interested In
About "Every Man Bss: Being God's Man as a Satisfied Single (Every Man Bible Studies Series)"
You may be single by choice or circumstance. You may plan to marry and have a family, or you may sense a call to lifelong singleness. Even so, your situation is God's will for you now. What will you do with it? What will you learn from it? And how will you survive the temptations confronting singles in this world?

You know firsthand that single men face unique spiritual and moral struggles. Character is the cornerstone of being God's man as a single in today's culture. To live successfully out of a commitment to Christ, you as a single man must master the issues of sexual integrity, isolation, contentment, spiritual battle, and identity in Christ. BEING GOD'S MAN. . . AS A SATISFIED SINGLE is designed to help you do just that.

- Publisher


Meet the Authors
Stephen Arterburn
Stephen Arterburn is the founder and chairman of New Life Ministries, America's largest faith-based broadcast, counselling, and treatment ministry, and is the host of New Life Live!- a daily radio program heard on more than 180 radio stations nationwide. He has been featured in publications such as The New York Times, USA Today, and TIME magazine. Arterburn is also the founder of the 'Women of Faith' conferences and has written over 60 books, including the best-selling Every Man's series.
He has been nominated for writing awards and has won three Gold Medallion awards. Arterburn is a well-known public speaker and in August 2000 was inducted into the National Speakers Association's Hall of Fame. He lives with his family in Laguna Beach, California. Some of his published works include Transformation, Finding Mr Right, Control what is controlling you, Boiling Point and NLT Every Man's Bible.
Koorong -Editorial Review.
Kenny Luck
Kenny Luck is president and founder of Every Man Ministries, coauthor of the best-selling Every Man, God' s Man and the author of the first book in the God's Man series, Risk which will have a sequel Dream. He is the Men' s Pastor of Saddleback Church in Lake Forest, California. He and his wife, Chrissy, have three children and reside in Trabuco Canyon, California.
Todd Wendorff
Todd is the lead pastor of the River Church in the South Bay, California. SPANISH BIO: Todd Wendorff es pastor en el Departamento de Madurez Espiritual en la Iglesia de la Comunidad Saddleback Valley
Other Titles In The "Every Man Bible Studies" Series View All