Every Man Bss: Being God's Man By Walking a New Path (Every Man Bible Studies Series)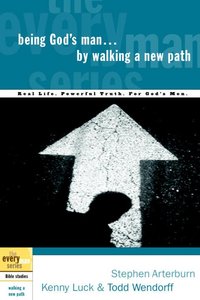 Take up a new calling. Walk a new path. And experience life's greatest adventure.

Will you discover your true reason for living, enter the battle, and become a new man in Christ? Or will you settle for less? To live more purposefully, to experience a full life, to become more, you will have to become someone else and walk a new path.

This kind of attitude is what the Navy Seals look for in a man: Rogue warriors. Unconventional. Committed. Guys who will do anything to win the battle and stay true to their new identities. Walking this new path requires men who won't shrink from the battle.

In spirit, the Apostle Paul was this kind of a rogue warrior for God's kingdom. He was tough and uncompromising and he held to a code that marked his life. He lived on purpose, not by accident. He surrendered his life and became a support for others. If you choose to become this kind of man made new, unwilling to compromise, then let this great apostle lead the way.

Special Features:
·Practical studies facilitate personal encounters with God and other men
·Questions encourage genuine reflection and help build godly convictions
·"Real Life" case studies show how the truths you discover have worked out in other men's lives
·"Standing Strong" section gives you the opportunity to form and express your action steps with God and your group


From the Trade Paperback edition.

- Publisher
You May Also Be Interested In
About "Every Man Bss: Being God's Man By Walking a New Path (Every Man Bible Studies Series)"
Take up a new calling. Walk a new path. And experience life's greatest adventure.

Will you discover your true reason for living, enter the battle, and become a new man in Christ? Or will you settle for less? To live more purposefully, to experience a full life, to become more, you will have to become someone else and walk a new path.

This kind of attitude is what the Navy Seals look for in a man: Rogue warriors. Unconventional. Committed. Guys who will do anything to win the battle and stay true to their new identities. Walking this new path requires men who won't shrink from the battle.

In spirit, the Apostle Paul was this kind of a rogue warrior for God's kingdom. He was tough and uncompromising and he held to a code that marked his life. He lived on purpose, not by accident. He surrendered his life and became a support for others. If you choose to become this kind of man made new, unwilling to compromise, then let this great apostle lead the way.

Special Features:
·Practical studies facilitate personal encounters with God and other men
·Questions encourage genuine reflection and help build godly convictions
·"Real Life" case studies show how the truths you discover have worked out in other men's lives
·"Standing Strong" section gives you the opportunity to form and express your action steps with God and your group


From the Trade Paperback edition.
- Publisher


Meet the Authors
Stephen Arterburn
Stephen Arterburn is the founder and chairman of New Life Ministries, America's largest faith-based broadcast, counselling, and treatment ministry, and is the host of New Life Live!- a daily radio program heard on more than 180 radio stations nationwide. He has been featured in publications such as The New York Times, USA Today, and TIME magazine. Arterburn is also the founder of the 'Women of Faith' conferences and has written over 60 books, including the best-selling Every Man's series.
He has been nominated for writing awards and has won three Gold Medallion awards. Arterburn is a well-known public speaker and in August 2000 was inducted into the National Speakers Association's Hall of Fame. He lives with his family in Laguna Beach, California. Some of his published works include Transformation, Finding Mr Right, Control what is controlling you, Boiling Point and NLT Every Man's Bible.
Koorong -Editorial Review.
Kenny Luck
Kenny Luck is president and founder of Every Man Ministries, coauthor of the best-selling Every Man, God' s Man and the author of the first book in the God's Man series, Risk which will have a sequel Dream. He is the Men' s Pastor of Saddleback Church in Lake Forest, California. He and his wife, Chrissy, have three children and reside in Trabuco Canyon, California.
Todd Wendorff
Todd is the lead pastor of the River Church in the South Bay, California. SPANISH BIO: Todd Wendorff es pastor en el Departamento de Madurez Espiritual en la Iglesia de la Comunidad Saddleback Valley
Other Titles In The "Every Man Bible Studies" Series View All