Every Man's Battle (Every Man Series)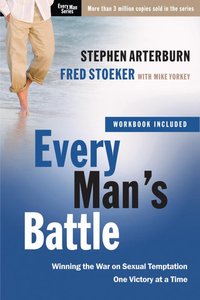 the challenge every man faces...the fight every man can win

From the television to the Internet, print media to videos, men are constantly faced with the assault of sensual images. It is impossible to avoid such temptations...but, thankfully, not impossible to rise above them.
Shattering the perception that men are unable to control their thought lives and roving eyes, Every Man's Battle shares the stories of dozens who have escaped the trap of sexual immorality and presents a practical, detailed plan for any man who desires sexual purity-perfect for men who have fallen in the past, those who want to remain strong today, and all who want to overcome temptation in the future.




Includes a special section for women, designed to help them understand and support the men they love.


From the Trade Paperback edition.

- Publisher
You May Also Be Interested In
About "Every Man's Battle (Every Man Series)"
the challenge every man faces...the fight every man can win

From the television to the Internet, print media to videos, men are constantly faced with the assault of sensual images. It is impossible to avoid such temptations...but, thankfully, not impossible to rise above them.
Shattering the perception that men are unable to control their thought lives and roving eyes, Every Man's Battle shares the stories of dozens who have escaped the trap of sexual immorality and presents a practical, detailed plan for any man who desires sexual purity-perfect for men who have fallen in the past, those who want to remain strong today, and all who want to overcome temptation in the future.




Includes a special section for women, designed to help them understand and support the men they love.


From the Trade Paperback edition.
- Publisher


Meet the Authors
Stephen Arterburn
Stephen Arterburn is the founder and chairman of New Life Ministries, America's largest faith-based broadcast, counselling, and treatment ministry, and is the host of New Life Live!- a daily radio program heard on more than 180 radio stations nationwide. He has been featured in publications such as The New York Times, USA Today, and TIME magazine. Arterburn is also the founder of the 'Women of Faith' conferences and has written over 60 books, including the best-selling Every Man's series.
He has been nominated for writing awards and has won three Gold Medallion awards. Arterburn is a well-known public speaker and in August 2000 was inducted into the National Speakers Association's Hall of Fame. He lives with his family in Laguna Beach, California. Some of his published works include Transformation, Finding Mr Right, Control what is controlling you, Boiling Point and NLT Every Man's Bible.
Koorong -Editorial Review.
Fred Stoeker
Fred Stoeker regularly writes and speaks to men about the subject of sexual purity. An experienced lay counselor, he lives with his wife and four children in the Des Moines, Iowa area.
Other Titles In The "Every Man" Series View All