Every Man's Challenge (Every Man Series)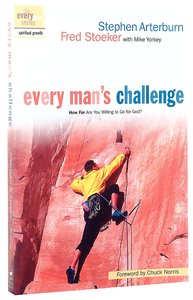 Are you ready to face life's tests?

God tests a man. Into the flow of everyday life He sends "pop quizzes" - those unexpected trials that show us what we're made of; that reveal the true quality of our faith and character; that show our willingness to obey Him.

EVERY MAN'S CHALLENGE, part of the best-selling Every Man series, will prepare you to obey. It does take guts to stand firm in facing what life throws our way. We need courage to acknowledge our own weaknesses and to change. We need understanding in handling moral dilemmas and family crises. Thankfully, God has given us the strength we need. By His power we can "participate in the divine nature" and triumph over our sins and the temptations and corruption of the world.

The forty "exams" in this book, comprised of Scripture, stories, and reflective questions, will give you the necessary tools to draw closer to God and win life's battles. Used in your devotional times or for personal reflection or group study, you'll find strength to overcome sexual temptation, learn how to love your wife better, and gain increasing confidence to live as Christ did.

In the defining moments of your life, you can obey God and pass the tests that challenge every man.


- Publisher
You May Also Be Interested In
About "Every Man's Challenge (Every Man Series)"
Are you ready to face life's tests?

God tests a man. Into the flow of everyday life He sends "pop quizzes" - those unexpected trials that show us what we're made of; that reveal the true quality of our faith and character; that show our willingness to obey Him.

EVERY MAN'S CHALLENGE, part of the best-selling Every Man series, will prepare you to obey. It does take guts to stand firm in facing what life throws our way. We need courage to acknowledge our own weaknesses and to change. We need understanding in handling moral dilemmas and family crises. Thankfully, God has given us the strength we need. By His power we can "participate in the divine nature" and triumph over our sins and the temptations and corruption of the world.

The forty "exams" in this book, comprised of Scripture, stories, and reflective questions, will give you the necessary tools to draw closer to God and win life's battles. Used in your devotional times or for personal reflection or group study, you'll find strength to overcome sexual temptation, learn how to love your wife better, and gain increasing confidence to live as Christ did.

In the defining moments of your life, you can obey God and pass the tests that challenge every man.

- Publisher


Meet the Authors
Stephen Arterburn
Stephen Arterburn is the founder and chairman of New Life Ministries, America's largest faith-based broadcast, counselling, and treatment ministry, and is the host of New Life Live!- a daily radio program heard on more than 180 radio stations nationwide. He has been featured in publications such as The New York Times, USA Today, and TIME magazine. Arterburn is also the founder of the 'Women of Faith' conferences and has written over 60 books, including the best-selling Every Man's series.
He has been nominated for writing awards and has won three Gold Medallion awards. Arterburn is a well-known public speaker and in August 2000 was inducted into the National Speakers Association's Hall of Fame. He lives with his family in Laguna Beach, California. Some of his published works include Transformation, Finding Mr Right, Control what is controlling you, Boiling Point and NLT Every Man's Bible.
Koorong -Editorial Review.
Fred Stoeker
Fred Stoeker regularly writes and speaks to men about the subject of sexual purity. An experienced lay counselor, he lives with his wife and four children in the Des Moines, Iowa area.
Mike Yorkey
Mike Yorkey, with thirty books to his credit, is a long-suffering San Diego Padres fan living in Encinitas, California. He most well known as the editor and author of Every Man Series
Other Titles In The "Every Man" Series View All
$25.99




Available Now. 4 Available

$21.80

Nett


Available for immediate download.

Unavailable. We are unsure when this item will be available to ship. 0 Available.

Unavailable

Unavailable

$21.99




Available Now. 5 Available

Formats