Every Young Man's Battle (Every Young Mans Series)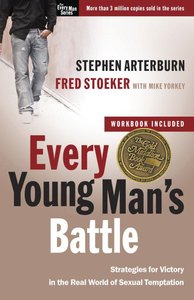 In this world you're surrounded by sexual images that open the door to temptation. They're everywhere-on TV, billboards, magazines, music, the internet-and so easy to access that it sometimes feels impossible to escape their clutches. Yet God expects his children to be sexually pure. So how can you survive the relentless battle against temptation? Here's powerful ammunition.

Steve Arterburn and Fred Stoeker, the authors of the hard-hitting best-seller Every Man's Battle, now focus on the temptations young single Christian men like you face every day-and they offer workable, biblical strategies for achieving sexual purity.

The authors examine the standard of Ephesians 5:3-"there must not be even a hint of sexual immorality"-in a positive and sensitive light. And they explain how an authentic, vibrant relationship with Jesus Christ is the key to victory over temptation. Every Young Man's Battle will show you how to train your eyes and your mind, how to clean up your thought life, and how to develop a realistic battle plan for remaining pure in today's sexually soaked culture. As a result, you'll experience hope-real hope-for living a strong, pure life God's way


From the Trade Paperback edition.

- Publisher
You May Also Be Interested In
About "Every Young Man's Battle (Every Young Mans Series)"
In this world you're surrounded by sexual images that open the door to temptation. They're everywhere-on TV, billboards, magazines, music, the internet-and so easy to access that it sometimes feels impossible to escape their clutches. Yet God expects his children to be sexually pure. So how can you survive the relentless battle against temptation? Here's powerful ammunition.

Steve Arterburn and Fred Stoeker, the authors of the hard-hitting best-seller Every Man's Battle, now focus on the temptations young single Christian men like you face every day-and they offer workable, biblical strategies for achieving sexual purity.

The authors examine the standard of Ephesians 5:3-"there must not be even a hint of sexual immorality"-in a positive and sensitive light. And they explain how an authentic, vibrant relationship with Jesus Christ is the key to victory over temptation. Every Young Man's Battle will show you how to train your eyes and your mind, how to clean up your thought life, and how to develop a realistic battle plan for remaining pure in today's sexually soaked culture. As a result, you'll experience hope-real hope-for living a strong, pure life God's way


From the Trade Paperback edition.
- Publisher


Meet the Authors
Stephen Arterburn
Stephen Arterburn is the founder and chairman of New Life Ministries, America's largest faith-based broadcast, counselling, and treatment ministry, and is the host of New Life Live!- a daily radio program heard on more than 180 radio stations nationwide. He has been featured in publications such as The New York Times, USA Today, and TIME magazine. Arterburn is also the founder of the 'Women of Faith' conferences and has written over 60 books, including the best-selling Every Man's series.
He has been nominated for writing awards and has won three Gold Medallion awards. Arterburn is a well-known public speaker and in August 2000 was inducted into the National Speakers Association's Hall of Fame. He lives with his family in Laguna Beach, California. Some of his published works include Transformation, Finding Mr Right, Control what is controlling you, Boiling Point and NLT Every Man's Bible.
Koorong -Editorial Review.
Fred Stoeker
Fred Stoeker regularly writes and speaks to men about the subject of sexual purity. An experienced lay counselor, he lives with his wife and four children in the Des Moines, Iowa area.
Mike Yorkey
Mike Yorkey, with thirty books to his credit, is a long-suffering San Diego Padres fan living in Encinitas, California. He most well known as the editor and author of Every Man Series
Other Titles In The "Every Young Mans Series" Series
Unavailable. We are unsure when this item will be available to ship. Other edition is available. 9780307729507 0 Available.

Unavailable

Unavailable

Unavailable. We are unsure when this item will be available to ship. eBook is Available. 0 Available.

Unavailable

Unavailable