Everyday Justice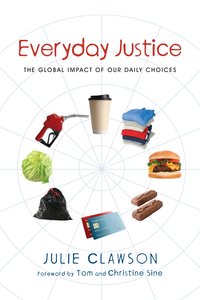 Where does your chocolate come from? Does it matter if your coffee is fair trade or not? It matters--more than you might think.Julie Clawson takes us on a tour of everyday life and shows how our ordinary lifestyle choices have big implications for justice around the world. She unpacks how we get our food and clothing and shows us the surprising costs of consumer waste.How we live can make a difference not only for our own health but also for the well-being of people across the globe. The more sustainable our lifestyle, the more just our world will be.Everyday justice is one way of loving God and our neighbors. We can live more ethically, through the little and big decisions we make every day. Here's how.

- Publisher
You May Also Be Interested In
About "Everyday Justice"
Where does your chocolate come from? Does it matter if your coffee is fair trade or not? It matters--more than you might think.Julie Clawson takes us on a tour of everyday life and shows how our ordinary lifestyle choices have big implications for justice around the world. She unpacks how we get our food and clothing and shows us the surprising costs of consumer waste.How we live can make a difference not only for our own health but also for the well-being of people across the globe. The more sustainable our lifestyle, the more just our world will be.Everyday justice is one way of loving God and our neighbors. We can live more ethically, through the little and big decisions we make every day. Here's how.
- Publisher


Meet the Author
Juile Clawson
Julie Clawson (M.A, Intercultural Studies, Wheaton College Graduate School) is a writer, blogger and moderator of the Emerging Women and Emerging Parents blogs. She has been a church planter and co-pastor of Via Christus Community Church in Yorkville, Illinois. She is the author of Everyday Justice:The Global Impact of Our Daily Choices.
Table Of Contents
Where Does Your Chocolate Come From? Does It Matter If Your Coffee Is Fair Trade Or Not? It Matters--more Than You Might Think.julie Clawson Takes Us On A Tour Of Everyday Life And Shows How Our Ordinary Lifestyle Choices Have Big Implications For Justice Around The World. She Unpacks How We Get Our Food And Clothing And Shows Us The Surprising Costs Of Consumer Waste.how We Live Can Make A Difference Not Only For Our Own Health But Also For The Well-being Of People Across The Globe. The More Sustainable Our Lifestyle, The More Just Our World Will Be.everyday Justice Is One Way Of Loving God And Our Neighbors. We Can Live More Ethically, Through The Little And Big Decisions We Make Every Day. Here's How.

Warning! Read Before Proceeding

Introduction

1 Coffee: Fair Trade And The Daily Latte

2 Chocolate: Modern-day Slavery Exposed

3 Cars: The Global And Local Impact Of Oil Consumption

4 Food: Choosing To Eat Ethically

5 Clothes: The Story Behind What We Wear

6 Waste: The High Price Of Our Dirty Little Habits

7 Debt: Proclaiming Jubilee To The Nations

Conclusion

Acknowledgments

Notes

About The Author