Everyday Prayers and Praises (Spiritual Refreshment For Women Series)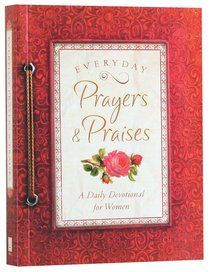 This lovely daily devotional offers just-right-sized readings that are perfect for your busy lifestyle. The 365 devotional readings feature themes important to your heart--including Faith, Friendship, Generosity, Grace, Love, Rest, Happiness, Peace, Self-Esteem, and dozens more. As you move through the pages of "Everyday Prayers and Praises," you'll be encouraged and inspired every day of the year as you experience the refreshing peace and assurance that can only be found through an intimate relationship with the Master Creator.

- Publisher
You May Also Be Interested In
About "Everyday Prayers and Praises (Spiritual Refreshment For Women Series)"
This lovely daily devotional offers just-right-sized readings that are perfect for your busy lifestyle. The 365 devotional readings feature themes important to your heart--including Faith, Friendship, Generosity, Grace, Love, Rest, Happiness, Peace, Self-Esteem, and dozens more. As you move through the pages of "Everyday Prayers and Praises," you'll be encouraged and inspired every day of the year as you experience the refreshing peace and assurance that can only be found through an intimate relationship with the Master Creator.
- Publisher


Meet the Authors
Rachel Quillin
Rachel Quillin is the author of several gift books and coauthor of the devotional prayer book Prayers & Promises for Mothers. She makes her home on a dairy farm in Stone Creek, Ohio, with her husband and five children.
Vicki Kuyper
Vicki Kuyper has written more than 50 books, including Jesus Speaks to Teens and Wonderlust: A Spiritual Travelogue for the Adventurous Soul. Her latest release is Breaking the Surface: Inviting God into the Shallows and Depths of Your Mind.Vicki has worked on a wide variety of projects for companies including Integrity Music, the International Bible Society, NavPress, Willow Creek, and Compassion International. She's also written numerous magazine articles, book reviews, video scripts, greeting cards, and the occasional cow-pun calendar. When Vicki isn't writing, she often speaks at women's r
Publishing Barbour
Since the company began as "Book Bargains" in 1981, much has happened to bring this company from a small remainder seller into a prominent Christian publisher. When Hugh Barbour began buying and reselling other publishers' excess stock, he was introducing a new concept to Christian bookstores. Soon, though, the new company began publishing its own titles, beginning with the classic allegory The Pilgrim's Progress in 1984. With a new name, Barbour and Company, publishing operations continued with two books that Hugh Barbour says "really put us on the map "Oswald Chambers' beloved devotional My Utmost for His Highest, and Barbour's first original title, The Bible Promise Book. Each found a ready market and, millions of copies later, remain on Barbour's best-selling backlist. Barbour and Company had found its niche: publishing Christian classics at value prices. - Publisher.
Other Titles In The "Spiritual Refreshment For Women" Series View All