Everyday Prayers For a Transformed Life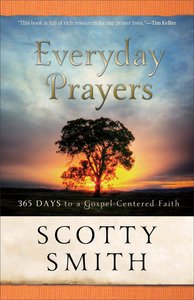 How would life be different if we could think, see, and do all things in light of the person and work of Jesus? With this inspiring collection of 365 Scripture-centered prayers, Scotty Smith helps readers pray the Scriptures through the lens of the gospel, mining the resources of God's grace and applying them in every season of life. He frees readers to abandon any posing or pretending in favor of an honest, no-spin relationship with a God who claims them as his own.

Each day includes a Scripture reference and an inspirational original prayer, born from both moments of great faith and moments of crisis. Like a modern-day book of Psalms, Everyday Prayers is a year's worth of growing in grace that readers will lean on year after year.

- Publisher
You May Also Be Interested In
About "Everyday Prayers For a Transformed Life"
How would life be different if we could think, see, and do all things in light of the person and work of Jesus? With this inspiring collection of 365 Scripture-centered prayers, Scotty Smith helps readers pray the Scriptures through the lens of the gospel, mining the resources of God's grace and applying them in every season of life. He frees readers to abandon any posing or pretending in favor of an honest, no-spin relationship with a God who claims them as his own.

Each day includes a Scripture reference and an inspirational original prayer, born from both moments of great faith and moments of crisis. Like a modern-day book of Psalms, Everyday Prayers is a year's worth of growing in grace that readers will lean on year after year.
- Publisher


Meet the Author
Scotty Smith
Scotty Smith serves as senior pastor of Christ Community Church in Franklin Tennessee, a church that he and five other couples planted and which now has more than 4,000 members. Scotty is the author of the bestseller, "Objects of His Affection", and has coauthored "Speechless" with Steven Curtis Chapman, and "Unveiled Hope" with Michael Card. He and his wife, Darlene, have been married twenty-seven years and have two children, Scott and Kristin.