Everything That Makes You Mom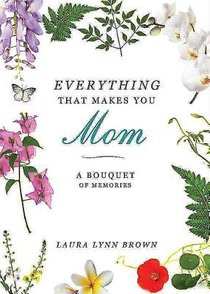 You've known your mother all your life. Show her you were paying attention with this keepsake book that allows you to reflect what you've seen back to her through thoughtful and fun Q&A. Each section/chapter will be a different way to look at mom.

Sections include:
•Mom's sayings
•Mom's rules, declared and unwritten
•Who would be cast in the movie of mom's life Metaphorical mom (If she were a tree, she would be … If she were a car, she would be … )
•Things I've wanted to ask
•Things I've wanted to tell
•What I learned from mom, whether or not she knew she was teaching
•Mom: The final exam


- Publisher
You May Also Be Interested In
About "Everything That Makes You Mom"
You've known your mother all your life. Show her you were paying attention with this keepsake book that allows you to reflect what you've seen back to her through thoughtful and fun Q&A. Each section/chapter will be a different way to look at mom.

Sections include:
•Mom's sayings
•Mom's rules, declared and unwritten
•Who would be cast in the movie of mom's life Metaphorical mom (If she were a tree, she would be … If she were a car, she would be … )
•Things I've wanted to ask
•Things I've wanted to tell
•What I learned from mom, whether or not she knew she was teaching
•Mom: The final exam

- Publisher


Meet the Author
Laura Lynn Brown
Laura Lynn Brown works as a copy editor and writer at a daily newspaper in Little Rock, Arkansas, where her headline writing has won regional and national awards. She is a keeper of memories, a listmaker, and an observer and collector of small marvels. More can be found at lauralynnbrown.com.