Evidence For the Resurrection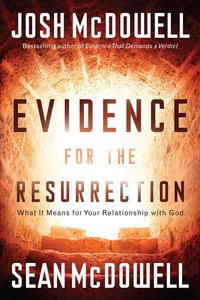 When Jesus died on the cross, it seemed that all had been lost. Death had won. But after three days in a rich man's tomb, Jesus appeared...alive! The news was so shocking that his followers refused to believe it until they saw him with their own eyes and touched his wounds with their own hands. Then Jesus made an amazing claim: In the future, they too would have resurrected bodies like his, bodies that would never deteriorate, age, or perish. They would have new life without death or pain in the presence of a loving God forever.

But can we really believe His promise? For that matter, can we really believe that the promise was made by a man who rose from the dead? In this fascinating look at the claims of the Gospel writers and 2,000 years of believing Christians, bestselling author Josh McDowell and his son Sean examine the compelling evidence and conclude that Jesus Christ conquered death and the grave. In clear, concise, and accessible chapters, Josh and Sean present the facts about the resurrection and what it means for readers today.

- Publisher
You May Also Be Interested In
About "Evidence For the Resurrection"
When Jesus died on the cross, it seemed that all had been lost. Death had won. But after three days in a rich man's tomb, Jesus appeared...alive! The news was so shocking that his followers refused to believe it until they saw him with their own eyes and touched his wounds with their own hands. Then Jesus made an amazing claim: In the future, they too would have resurrected bodies like his, bodies that would never deteriorate, age, or perish. They would have new life without death or pain in the presence of a loving God forever.

But can we really believe His promise? For that matter, can we really believe that the promise was made by a man who rose from the dead? In this fascinating look at the claims of the Gospel writers and 2,000 years of believing Christians, bestselling author Josh McDowell and his son Sean examine the compelling evidence and conclude that Jesus Christ conquered death and the grave. In clear, concise, and accessible chapters, Josh and Sean present the facts about the resurrection and what it means for readers today.
- Publisher


Meet the Authors
Josh Mcdowell
Josh McDowell is an internationally known speaker, author, and champion of the 'Beyond Belief' Campaign. He is a travelling representative of Campus Crusade for Christ speaking to more than ten million people in at least 84 countries, including 700 university and college campuses.
Josh has authored or co-authored more than 90 books, including the classic A Ready Defense, Evidence that Demands a Verdict and Answers to Tough Questions
Sean Mcdowell
A popular speaker at schools, churches, and conferences, focuses on helping young people think critically about key moral issues. He is a highschool teacher, holds advanced degrees in philosophy and theology, and has compiled Josh McDowell's Youth Ministry Handbook and authored Ethix: Being Bold in a Whatever World and co-authored Understanding Intelligent Design along with William A. Dembski and The Credible Resurrection with Josh McDowell (Gospel Light, 2008).
He is currently the general editor for The Apologetics Study Bible for Teens. Sean has also contributed to YouthWorker Journal, Decision Magazine, the Christian Research Journal, and writes regular columns for www.planetwisdom.com and www.christianworldviewnetwork.com.