Evil and the Justice of God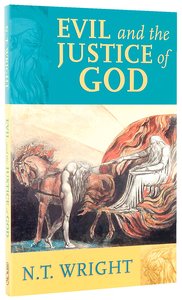 This is a fascinating analysis and response to the fundamental questions that face any believer today. Sadly becoming daily more topical, this book explores all aspects of evil - our contemporary and theological understanding, and the ways in which evil presents itself in society today. Fully grounded in the Bible, EVIL AND THE JUSTICE OF GOD is sparkling, erudite, provocative and particularly relevant in the wake of new global terror attacks.

Accounts of cruelty, death and terrorism hit us every day. The phrase 'the axis of evil' resonates in our world, and evil seems to seep into all aspects of life. We are forced to ask fundamental questions about God and the nature of evil, which demand a theological resolution that is mature, profound and never glib.

N. T. Wright explores these pivotal questions with a fresh and engaging approach, combining the virtues of detailed scholarship with an accessible style. He neither ducks the awkward, nor avoids the unpalatable, but instead offers a new, often surprising perspective in his search for a meaningful response to the problem of evil.

"The Rt Revd Tom Wright, Bishop of Durham . . . is that rare breed of teacher who can reach people of all levels of understanding, despite working not at the 'coalface', but largely as an academic theologian." - Daily Telegraph


- Publisher
You May Also Be Interested In
About "Evil and the Justice of God"
This is a fascinating analysis and response to the fundamental questions that face any believer today. Sadly becoming daily more topical, this book explores all aspects of evil - our contemporary and theological understanding, and the ways in which evil presents itself in society today. Fully grounded in the Bible, EVIL AND THE JUSTICE OF GOD is sparkling, erudite, provocative and particularly relevant in the wake of new global terror attacks.

Accounts of cruelty, death and terrorism hit us every day. The phrase 'the axis of evil' resonates in our world, and evil seems to seep into all aspects of life. We are forced to ask fundamental questions about God and the nature of evil, which demand a theological resolution that is mature, profound and never glib.

N. T. Wright explores these pivotal questions with a fresh and engaging approach, combining the virtues of detailed scholarship with an accessible style. He neither ducks the awkward, nor avoids the unpalatable, but instead offers a new, often surprising perspective in his search for a meaningful response to the problem of evil.

"The Rt Revd Tom Wright, Bishop of Durham . . . is that rare breed of teacher who can reach people of all levels of understanding, despite working not at the 'coalface', but largely as an academic theologian." - Daily Telegraph

- Publisher


Meet the Author
N T Wright
N.T.(Tom) Wright (D.Phil., University of Oxford) is Reseach Professor in Christian Origins at St Mary's College in the Divinity School of St Andrew's University, Scotalnd. Formerly Bishop of Durham, he was recently named by Christianity Today as one of the top five theologians in the world. Once Canon Theologian of Westminster Abbey and dean of Lichfield Cathedral, he taught New Testament studies for twenty years at Cambridge, McGill and Oxford Universities.
Wright's full-scale works The New Testament and the People of God; Jesus and the Victory of God; and The Resurrection of the Son of God are part of a projected six-volume series entitled Christian Origins and the Question of God.
Among his many other published works are The Original Jesus; What Saint Paul Really Said and The Climax of the Covenant. He is also co-author with Marcus Borg of The Meaning of Jesus: Two Visions
His commentaries include Colossians and Philemon (The Tyndale New Testament Commentary series), the 12 volume For Everyone series, Romans (New Interpreter's Bible Commentary); Galatians (The Horizons Theological Commentary) and The Letter to the Philippians (International Critical Commentary)
Most recently he has released Surprised by Hope; Small Faith--Great God; Virtue Reborn and Justification: God's Plan and Paul's Vision.
Koorong -Editorial Review.