Exclusion and Embrace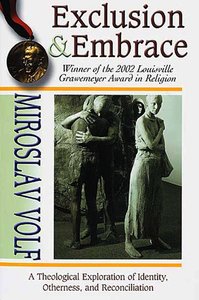 Life at the end of the twentieth century presents us with a disturbing reality. Otherness, the simple fact of being different in some way, has come to be defined as in and of itself evil. Miroslav Volf contends that if the healing word of the gospel is to be heard today, Christian theology must find ways of speaking that address the hatred of the other. Reaching back to the New Testament metaphor of salvation as reconciliation, Volf proposes the idea of embrace as a theological response to the problem of exclusion. Increasingly we see that exclusion has become the primary sin, skewing our perceptions of reality and causing us to react out of fear and anger to all those who are not within our (ever-narrowing) circle. In light of this, Christians must learn that salvation comes, not only as we are reconciled to God, and not only as we "learn to live with one another", but as we take the dangerous and costly step of opening ourselves to the other, of enfolding him or her in the same embrace with which we have been enfolded by God.

- Publisher
You May Also Be Interested In
About "Exclusion and Embrace"
Life at the end of the twentieth century presents us with a disturbing reality. Otherness, the simple fact of being different in some way, has come to be defined as in and of itself evil. Miroslav Volf contends that if the healing word of the gospel is to be heard today, Christian theology must find ways of speaking that address the hatred of the other. Reaching back to the New Testament metaphor of salvation as reconciliation, Volf proposes the idea of embrace as a theological response to the problem of exclusion. Increasingly we see that exclusion has become the primary sin, skewing our perceptions of reality and causing us to react out of fear and anger to all those who are not within our (ever-narrowing) circle. In light of this, Christians must learn that salvation comes, not only as we are reconciled to God, and not only as we "learn to live with one another", but as we take the dangerous and costly step of opening ourselves to the other, of enfolding him or her in the same embrace with which we have been enfolded by God.
- Publisher


Meet the Author
Miroslav Volf
Miroslav Volf (Dr. Theol., University of Tubingen) is the Director of the Yale Center for Faith and Culture and the Henry B. Wright Professor of Systematic Theology. Professor Volf's recent books include Free of Charge: Giving and Forgiving in a Culture Stripped of Grace (2006), Archbishop of Canterbury Lenten book for 2006; Exclusion and Embrace: A Theological Exploration of Identity, Otherness, and Reconciliation (1996), a winner of the 2002 Grawemeyer Award; After Our Likeness: The Church as the Image of the Trinity (1998), winner of the Christianity Today book award, and The End Of Memory: Remembering Rightly in a Violent World.
A member of the Episcopal Church in the U.S.A. and the Evangelical Church in Croatia, Professor Volf was involved in international ecumenical dialogues (for instance, with the Vatican Council for Promotion of Christian Unity) and interfaith dialogues (most recently in Christian-Muslim dialogue). A native of Croatia, he regularly teaches and lectures in Central and Eastern Europe.
Koorong -Editorial Review.