Exodus - Journey Toward God (New Community Study Series)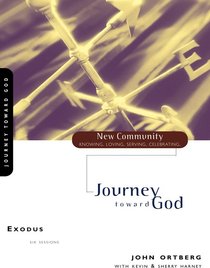 This cutting-edge series is a high-impact tool for experiencing the transforming power of God's Word. You'll explore life-changing topics from a biblical perspective in community with others in your small group. Challenging questions will encourage you to reflect on Scripture and its impact on your life, both as an individual and as part of a community of Christ followers. From Zondervan
You May Also Be Interested In
About "Exodus - Journey Toward God (New Community Study Series)"
This cutting-edge series is a high-impact tool for experiencing the transforming power of God's Word. You'll explore life-changing topics from a biblical perspective in community with others in your small group. Challenging questions will encourage you to reflect on Scripture and its impact on your life, both as an individual and as part of a community of Christ followers. From Zondervan
- Koorong

Consult the compass for the journey of your life. Life as a Christian is a journey -- a journey toward God. But how do you set your compass? How do you make sure that God is guiding your steps and that you are not being blown willy-nilly by life's shifting winds of circumstance? Turn to the book of Exodus and discover guidance and joy for your pilgrimage. You will grow to know God in a deeper, more personal way. You will learn to trust him more than ever before. You will discover who your fellow travelers are. And you will learn how to chart your course by the compass of God's will as you take the trip of your life.
- Publisher


Meet the Author
John Ortberg
John Ortberg is a teaching pastor at Menlo Park Presbyterian Church in Menlo Park, California, and previously served as teaching pastor at Willow Creek Community Church. He is the best-selling author of Everybody's Normal Till You Get to Know Them, If You Want to Walk on Water, You've Got to Get Out of the Boat, Love Beyond Reason, and Old Testament Challenge. He has written for Christianity Today and is a frequent contributor to Leadership Journal. His most recent publications include When the Game is Over, God is Closer than you Think, and Overcoming Your Shadow Mission.
-Editorial Review.
Other Titles In The "New Community Study" Series View All
$14.99




Order now to secure your copy when our stock arrives. 0 Available. Expected to ship in 6 to 7 weeks from Australia.

Formats

$15.99




Order now to secure your copy when our stock arrives. eBook is Available. 0 Available. Expected to ship in 6 to 7 weeks from Australia.

Formats