Expecting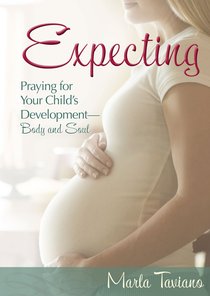 Create a keepsake you and your child will cherish forever.

Just as the heart of your baby begins to beat and as little ears take shape, speak words of prayer asking for a heart that beats for God and for ears that listen for His leading. This beautiful prayer book will guide you as you pray for your child's physical growth as well as his or her spiritual growth. The precious forty weeks of creation will become even more meaningful as you reflect on the illustrations that depict your baby's development.

Each week you will be blessed with:

-A prayer for your child's body and soul
-A devotional message
-A carefully selected scripture
-An inspirational quote
-A "body and soul" reflection for mom
-A space for you to journal your own thoughts and prayers

- Publisher
You May Also Be Interested In
About "Expecting"
Create a keepsake you and your child will cherish forever.

Just as the heart of your baby begins to beat and as little ears take shape, speak words of prayer asking for a heart that beats for God and for ears that listen for His leading. This beautiful prayer book will guide you as you pray for your child's physical growth as well as his or her spiritual growth. The precious forty weeks of creation will become even more meaningful as you reflect on the illustrations that depict your baby's development.

Each week you will be blessed with:

-A prayer for your child's body and soul
-A devotional message
-A carefully selected scripture
-An inspirational quote
-A "body and soul" reflection for mom
-A space for you to journal your own thoughts and prayers
- Publisher


Meet the Author
Marla Taviano
Marla Taviano is a gifted communicator with a passion for writing and reaching young women with God's truth. She has written four books for McGraw-Hill, America's leading educational publisher. She and her husband, Gabe, have two preschool daughters.