Experiencing Spiritual Breakthroughs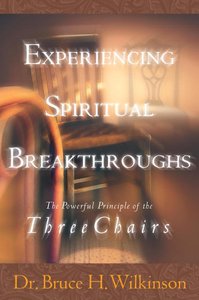 It happens in almost every part of life. We wear down, burn out, and lose hope. While nothing is fail-safe, there are things you can do to halt the downward slide in your family-such as placing your children in situations where they can experience God's powerful working firsthand, modeling a strong day-to-day relationship with Christ, and donating your family's time and resources to godly endeavors. In the midst of a society without morals, a passionate relationship with Jesus is possible-not just a "mountaintop experience," but an everyday vibrant relationship.

- Publisher
You May Also Be Interested In
About "Experiencing Spiritual Breakthroughs"
It happens in almost every part of life. We wear down, burn out, and lose hope. While nothing is fail-safe, there are things you can do to halt the downward slide in your family-such as placing your children in situations where they can experience God's powerful working firsthand, modeling a strong day-to-day relationship with Christ, and donating your family's time and resources to godly endeavors. In the midst of a society without morals, a passionate relationship with Jesus is possible-not just a "mountaintop experience," but an everyday vibrant relationship.
- Publisher


Meet the Author
Bruce Wilkinson
Dr. Bruce Wilkinson is the author of The Prayer of Jabez, named the "fastest-selling book of all time" by Publishers Weekly. Other books written by Wilkinson include the bestsellers A Life God Rewards, Secrets of the Vine, and The Dream Giver, and Beyond Jabez. His books have sold over 20 million copies combined. In 1976, Wilkinson founded Walk Thru the Bible Ministries. It is now the largest Christian seminar organisation in the U.S., conducting more than 2,500 conferences per year. In 2001, his career took a decisive new direction with the founding of Global Vision Resources, a private non-profit operating foundation that produces, markets, and distributes video and curriculum products to retail outlets, businesses, schools, and ministries around the world. A heavily-in-demand speaker, Wilkinson also serves as Chairman of Dream for Africa and Ovation Productions. Bruce and his wife, Darlene Marie, have three children and six grandchildren. They divide their time between Georgia and South Africa.