Experiencing the Loss of a Family Member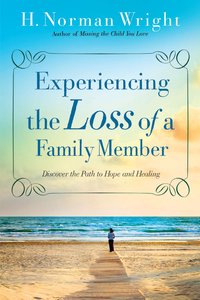 Your Guide Through the Valley of Loss

Losing a family member is one of life's most difficult experiences, and the weeks and months that follow such a loss can be overwhelming. Experiencing the Loss of a Family Member is a trustworthy companion for your journey through grief. With gentle honesty and wisdom, bestselling author and respected family therapist H. Norman Wright discusses topics, such as:
· The World of Grief
· The Loss of a Spouse
· The Death of a Child
· Parent Loss
· The Death of a Sibling
· The Death of a Friend
· The Death of a Pet
· And More

You are not alone as you travel through the valley--God's Spirit, the Comforter, walks with you every step of the way. He will guide you toward true peace and renewed hope.

- Publisher
You May Also Be Interested In
About "Experiencing the Loss of a Family Member"
Your Guide Through the Valley of Loss

Losing a family member is one of life's most difficult experiences, and the weeks and months that follow such a loss can be overwhelming. Experiencing the Loss of a Family Member is a trustworthy companion for your journey through grief. With gentle honesty and wisdom, bestselling author and respected family therapist H. Norman Wright discusses topics, such as:
· The World of Grief
· The Loss of a Spouse
· The Death of a Child
· Parent Loss
· The Death of a Sibling
· The Death of a Friend
· The Death of a Pet
· And More

You are not alone as you travel through the valley--God's Spirit, the Comforter, walks with you every step of the way. He will guide you toward true peace and renewed hope.
- Publisher


Meet the Author
H Norman Wright
Dr. H. Norman Wright is one of America's most prominent Christian counselors. He is a licensed Marriage, Family and Child Therapist. Dr. Wright is a graduate of Westmont College, Fuller Theological Seminary (M.R.E.), Pepperdine University (M.A.). He has written numerous best-selling books on Communication, Family and Parenting. His titles include Communication: Key to Your Marriage; Always Daddy's Girl; Quiet Times for Couples; The Power of a Parent's Words and the Premarital Counseling Handbook. Dr. Wright is currently on the faculty of the Talbot School of Theology and was the former director of their Graduate Department of Marriage, Family and Child Counseling.