Exploring Christology and Atonement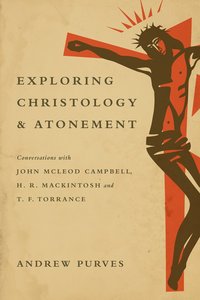 :Andrew Purves, the author of many works in pastoral theology, has spent his life exploring the significance of Jesus Christ for the life of the church. As a professor of historical theology, he has also investigated the significance of patristic and Reformed theology for understanding Christ. In Exploring Christology and Atonement, Purves brings these concerns together. If pastoral theology is about the person and work of Christ, then the study of Christology and atonement is essential to the ministry of the church.Drawing on his own Scottish heritage, Purves engages in a critical conversation about Christ's person and work with three eminent Scottish theologians whose legacy stretches over two hundred years: John McLeod Campbell, Hugh Ross Mackintosh and Thomas Forsyth Torrance. Purves shows how their respective contributions to our understanding of Jesus Christ shape and inform the practice of the faith. The ministry of the church is rooted first and foremost in the ministry of God.

- Publisher
You May Also Be Interested In
About "Exploring Christology and Atonement"
:Andrew Purves, the author of many works in pastoral theology, has spent his life exploring the significance of Jesus Christ for the life of the church. As a professor of historical theology, he has also investigated the significance of patristic and Reformed theology for understanding Christ. In Exploring Christology and Atonement, Purves brings these concerns together. If pastoral theology is about the person and work of Christ, then the study of Christology and atonement is essential to the ministry of the church.Drawing on his own Scottish heritage, Purves engages in a critical conversation about Christ's person and work with three eminent Scottish theologians whose legacy stretches over two hundred years: John McLeod Campbell, Hugh Ross Mackintosh and Thomas Forsyth Torrance. Purves shows how their respective contributions to our understanding of Jesus Christ shape and inform the practice of the faith. The ministry of the church is rooted first and foremost in the ministry of God.
- Publisher


Meet the Author
Andrew Purves
Andrew Purves (Ph.D., University of Edinburgh) holds the Hugh Thomson Kerr Chair in Pastoral Theology at Pittsburgh Theological Seminary in Pennsylvania. He is the author of numerous books including The Resurrection of Ministry(InterVarsity Press, 2010); The Crucifixion of Ministry (InterVarsity Press, 2007); Reconstructing Pastoral Theology: A Christological Foundation (WJK, 2004); A Passion for the Gospel: Confessing Jesus Christ for the 21st Century (with Mark Achtemeier, Geneva 2000); Encountering God: Christian Faith in Turbulent Times (with Charles Partee, WJK 2000); Union in Christ: A Declaration for the Church (with Mark Achtemeier, Witherspoon 1999), and The Search for Compassion: Spirituality and Ministry (WJK 1989).
Purves has a deep concern for the renewal of the church, and speaks regularly around the country on matters of theological and spiritual renewal.
Koorong -Editorial Review.
Table Of Contents
:preface: Christology And Atonementintroduction: Locating Theology1. Christology: Who Is The Incarnate Savior Of The World?2. Christology: The Mystery Of Christ?the homoousion And The Hypostatic Union3. Christology: The Magnificent Exchange And Union With Christ4. Atonement: John Mcleod Campbell's Theology Of Satisfaction5. Atonement: Hugh Ross Mackintosh And The Experience Of Forgiveness6. Atonement: Thomas F. Torrance On The Atonement As Ransom, Priestly Atonement, Justification, Reconciliation And Redemption7. Christology And Atonement: Faith And Ministryauthor Indexsubject Index