Extraordinary Women of Christian History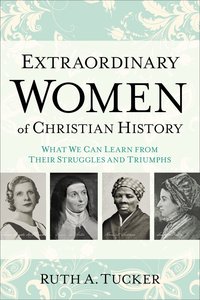 Christianity has long been criticized as a patriarchal religion. But during its two-thousand-year history, the faith has been influenced and passed down by faithful women. Martyrs and nuns, mystics and scholars, writers and reformers, preachers and missionaries, abolitionists and evangelists, these women are examples to us of faith, perseverance, forgiveness, and fortitude.

With gracious irreverence, Ruth Tucker offers engaging and candid profiles of some of the most fascinating women of Christian history. From the famous to the infamous to the obscure, women like Perpetua, Joan of Arc, Teresa of Avila, Anne Hutchinson, Susanna Wesley, Ann Judson, Harriet Tubman, Fanny Crosby, Hannah Whitehall Smith, Corrie ten Boom, and Mother Teresa, along with dozens of others, come to vivid life. Perfect for small groups, these portraits of women who changed the world in their own significant way will spark lively discussion and inspire today's Christians to lives of faithful witness.

- Publisher
You May Also Be Interested In
About "Extraordinary Women of Christian History"
Christianity has long been criticized as a patriarchal religion. But during its two-thousand-year history, the faith has been influenced and passed down by faithful women. Martyrs and nuns, mystics and scholars, writers and reformers, preachers and missionaries, abolitionists and evangelists, these women are examples to us of faith, perseverance, forgiveness, and fortitude.

With gracious irreverence, Ruth Tucker offers engaging and candid profiles of some of the most fascinating women of Christian history. From the famous to the infamous to the obscure, women like Perpetua, Joan of Arc, Teresa of Avila, Anne Hutchinson, Susanna Wesley, Ann Judson, Harriet Tubman, Fanny Crosby, Hannah Whitehall Smith, Corrie ten Boom, and Mother Teresa, along with dozens of others, come to vivid life. Perfect for small groups, these portraits of women who changed the world in their own significant way will spark lively discussion and inspire today's Christians to lives of faithful witness.
- Publisher


Meet the Author
Ruth A Tucker
Ruth A. Tucker (Ph.D., Northern Illinois University) has spent more than twenty years teaching and was the first woman to hold a faculty position at Calvin Theological Seminary in Grand Rapids, Michigan.
She is the author of many books, including From Jerusalem to Irian Jaya: A Biographical History of Christian Missions; Leadership Reconsidered: Becoming a Person of Influence; Daughters of the Church: Women and ministry from New Testament times to the present;God Talk; Another Gospel: Cults, Alternative Religions, and the New Age Movement; Parade of Faith: A Biographical History of the Christian Church, and Walking Away from Faith.
Koorong - Editorial Review.