Eyes Wide Open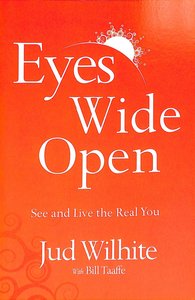 I had it all backwards. The main thing was not my love for God, but his love for me. And from that love I respond to God as one deeply flawed, yet loved. I'm not looking to prove my worth. I'm not searching for acceptance. I'm living out of the worth God already declares I have. I'm embracing his view of me and in the process discovering the person he created me to be.

In Eyes Wide Open, Jud Wilhite invites you to discover the real you. Not the you who pretends to be perfect to satisfy everyone's expectations. Not the you who always feels guilty before God. Not the you who secretly feels God forgives everyone else but only tolerates you. Not the you who looks in the mirror and sees a failure. The real you, loved and forgiven by God, living out of your identity in Christ.

A travel guide through real spirituality from one incomplete person to another, Eyes Wide Open is a book of stories about following God in the messes of life, about broken pasts and our lifelong need for grace. It is a book about seeing ourselves and God with new eyes–eyes wide open to a God of love.

- Publisher
You May Also Be Interested In
About "Eyes Wide Open"
I had it all backwards. The main thing was not my love for God, but his love for me. And from that love I respond to God as one deeply flawed, yet loved. I'm not looking to prove my worth. I'm not searching for acceptance. I'm living out of the worth God already declares I have. I'm embracing his view of me and in the process discovering the person he created me to be.

In Eyes Wide Open, Jud Wilhite invites you to discover the real you. Not the you who pretends to be perfect to satisfy everyone's expectations. Not the you who always feels guilty before God. Not the you who secretly feels God forgives everyone else but only tolerates you. Not the you who looks in the mirror and sees a failure. The real you, loved and forgiven by God, living out of your identity in Christ.

A travel guide through real spirituality from one incomplete person to another, Eyes Wide Open is a book of stories about following God in the messes of life, about broken pasts and our lifelong need for grace. It is a book about seeing ourselves and God with new eyes–eyes wide open to a God of love.
- Publisher


Meet the Author
Jud Wilhite
Jud Wilhite is senior pastor of Central Christian Church, a pioneering community of faith in Las Vegas. More than ten thousand people attend Centrals campuses each weekend. Jud is the author of Eyes Wide Open; Uncensored Grace: Stories of Hope and Faith That Goes the Distance, and a creative partner with Pursuit.org. He lives in the Las Vegas area with his wife, Lori, and their two children.
Koorong - Editorial Review.
Excerpt
Excerpt from: Eyes Wide Open
I once lost my glasses while running late for an appointment. I'm nearsighted, so I can see okay up close with or without my glasses. But if I get twenty or thirty feet away, forget it.


So here I was, looking all over the house, trying to find my glasses. I looked in the bedroom. I looked downstairs in the kitchen. I looked in my study. I was getting frustrated and angry, and then I went around the corner and saw my wife, Lori.


"You have to help me," I told her. "I'm running late and I can't find my glasses."


She looked at me with a puzzled stare and said, "Jud, they're on your face. You are wearing your glasses."


All I could say was "Uh…I am?" (I also had a fleeting thought that I'll be headed to a rubber room one day soon!)


How foolish is that? I searched desperately for something right under, or rather on, my nose. But I'm not alone in this oddity. We often look for what is right in front of us. We search for something to declare that our life has value. We look for someone to love us no matter how many indiscretions we've committed or what a mess we've made of our lives. We seek respect, validation, and significance. We run on a speeding approval treadmill, but it's never enough. And the amazing thing is that we are looking for what we already have, if only we had eyes to see it.


For years after I came to faith in Jesus Christ, I struggled to believe that God cared about me. I felt as if I had done so many bad things in my life that God could never fully accept me. No matter what I did, a small, quiet voice would come back and say, Oh, you are just a mess, Jud. You're never going to amount to anything.


I jumped through all the right religious hoops and went above and beyond to prove things to myself and others. Yet I'd still hear these thoughts: Who are you kidding? Get real, man. You have too much stuff in your past.


I was very aware of my abysmal failure to live up to God's standards on my own. I was worn out from trying to be good enough. I had buried the person God made me to be in order to fit the mold of what I perceived a Christian was.


All of it was part of my search for acceptance. But it wasn't working. I loved God, but it felt as if I was always performing for Him. I felt like a fake and sensed that God was as weary of the performance
as I was.


I became so frustrated that I finally sat down and prayed, God, I quit. If we're going to have any kind of relationship, it is up to You. I can't do this anymore. And I was serious.


Maybe you can relate. Many people walk around feeling like spiritual failures. Like the guy who said he loved Jesus but couldn't be a Christian.


What is that about? After all, one would presume that the definition of a Christian is somebody who loves Jesus. So this guy was asked, "How would you define a Christian?"


He said, "A Christian is someone who has his stuff together."

Really?


You know what I feel like sometimes? Like those fifteen-year-old pickup trucks you sometimes see rolling down the highway, loaded to the max with paint buckets and ladders and rakes and toolboxes
and junk and a roll of unsecured carpet about to fall off and hit some innocent car right in the grille.


Christians have their stuff together—r-i-i-i-g-h-t.


I don't even try to pretend I have my stuff together anymore.


But back when I was still thinking that I had to make myself worthy of God's love, my frustration continued to grow. Then one day I heard a talk from the Bible, where it says, "This is real love—not that we loved God, but that he loved us and sent his Son as a sacrifice to take away our sins."1


After the talk, I hurried out the door and went to a quiet place. The impact of this Bible passage floored me. For the first time, God's love began to sink in with all its implications. Somehow, in that act of giving up my personal quest for God's approval, I finally saw what had been there all along. And what I saw flipped my faith experience right-side up. It impacted every aspect of my relationships with others and
changed my future. I saw the key to living with my eyes wide open. I surrendered my view of myself and embraced God's view of me.


I'd had it all backward. I was putting so much pressure on myself to earn God's love, but it was already there. While I had known this in my head, I had not accepted it in my heart.


The main thing is not my love for God but His love for me. And from that love I respond to God as one deeply flawed yet loved. I'm not looking to prove my worth. I'm not searching for acceptance. I'm responding from the worth God has already declared I have. And it isn't based on how I feel; it is based on His own promise and revelation in the Bible.


I don't have to act like someone else. Now I am free to become fully myself, the unique person God created me to be. My eyes opened wide.


How about you? Are you trying to perform so that God will love you? Are you working hard to keep all the plates spinning? Can you admit that it isn't working? Are you worn out and ready to quit?


I mean, do you believe deep down inside that God already loves you? Not your friend or your neighbor or the world in general, but you? Not your potential or your performance, not your achievements or your awards, not your title or your position, but you, right now, in the mess and mire of your life? Not in some trite sense, but in a deeply personal, real way?


Do you believe that God loves you when your prayers are weak? When your faith falters? When you lust after the guy or girl walking down the street? When you aren't sure of anything?


Do you believe that He loves you when you blatantly disregard His principles to serve a selfish desire?
Do you believe, deep inside, that there is nothing you could do to cause Him to love you less?


I'm not surprised at people's reactions when I ask these questions. Most often people look down, avoid eye contact, and voice either an unconvinced yes or a blatant no. Many fall back on the right churchy answer about God's love—in theory at least. But when it comes to internalizing it, most seem to feel anything but loved.


Living with eyes wide open means you don't have to be better looking, lose weight, wear different clothes, or achieve one more thing in your career. You don't have to climb the ladder one more notch or accomplish another goal. You matter just as you are. You are an incredible spiritual being because that's how God created you.


Can you see it?