Eyre: The Forgotten Explorer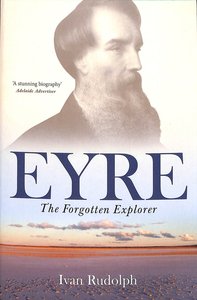 Edward John Eyre was one of the most intrepid explorers to tackle the unforgiving Australian outback - and one of the youngest. Lake Eyre, the Eyre Highway between Adelaide and Perth, and many other landmarks are named after him, yet so little is known of his time here. Author Ivan Rudolph shows how this idealistic young Englishman - still in his teens when he arrived in New South Wales in 1833 - transformed himself into a rugged frontiersman, one of the first to overland cattle to Melbourne and Adelaide. But it's Eyre's attempt on the Nullarbor that was the peak of his Australian career. Determined to find an overland route to Perth, he left Adelaide with a small party on 18 June 1840. Ivan Rudolph relates their journey step by step - and it makes for gripping reading. Beset by the harsh terrain, scarcity of water, the danger from hostile Indigenous people and dissent - and worse - among Eyre's companions, could Eyre achieve his ambition and find a way across the Nullarbor? A fascinating portrait of a forgotten hero of Australian history. 'A stunning biography' Adelaide Advertiser 'A grand story, grandly told' Herald Sun 'It brings the Australian colonies in the 1830s and 1840s to life ... a lively introduction to exploration history' Peter Garrett, AM

- Publisher
You May Also Be Interested In
About "Eyre: The Forgotten Explorer"
Edward John Eyre was one of the most intrepid explorers to tackle the unforgiving Australian outback - and one of the youngest. Lake Eyre, the Eyre Highway between Adelaide and Perth, and many other landmarks are named after him, yet so little is known of his time here. Author Ivan Rudolph shows how this idealistic young Englishman - still in his teens when he arrived in New South Wales in 1833 - transformed himself into a rugged frontiersman, one of the first to overland cattle to Melbourne and Adelaide. But it's Eyre's attempt on the Nullarbor that was the peak of his Australian career. Determined to find an overland route to Perth, he left Adelaide with a small party on 18 June 1840. Ivan Rudolph relates their journey step by step - and it makes for gripping reading. Beset by the harsh terrain, scarcity of water, the danger from hostile Indigenous people and dissent - and worse - among Eyre's companions, could Eyre achieve his ambition and find a way across the Nullarbor? A fascinating portrait of a forgotten hero of Australian history. 'A stunning biography' Adelaide Advertiser 'A grand story, grandly told' Herald Sun 'It brings the Australian colonies in the 1830s and 1840s to life ... a lively introduction to exploration history' Peter Garrett, AM
- Publisher


Meet the Author
Ivan Rudolph
As a child in Africa, Ivan was fascinated by his father?s NDE and began talking to others who had had similar experiences. In time, he developed a clear explanation for these fascinating events. In this, his twelfth published book, he provides a penetrating and lucid Christian model available for understanding these exciting but confusing adventures in the afterlife. Ivan is a highly qualified science teacher. Ivan, Brenda, and their four children immigrated to Australia in 1986, where he taught science for many years. For more information, please visit his website: www.ivanrudolph.com.