Face to Face With Jesus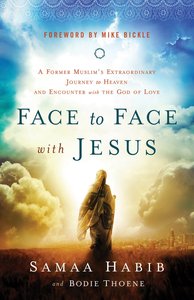 It starts as a story ripped from the headlines of the war-torn Middle East. An extremist faction of Islam bombs a church during a service. The one door in the back isn't big enough for five hundred people trying to escape.

Some are killed.

But after the chaos and fire and smoke, one young woman comes back to life.

In this thrilling true tale, death does not have the final word. From the first time Samaa heard the Lord Jesus calling her out of Islam into faith in Him, till she met Him face to face in heaven, her life is marked by God's supernatural love and power. Full of hope and encouragement, and overflowing with Jesus' love, her riveting account reveals the power of God to break through any circumstance--and is a moving reminder that, in a place beyond what we can imagine, we have a Savior waiting to welcome us face to face.

- Publisher
You May Also Be Interested In
About "Face to Face With Jesus"
It starts as a story ripped from the headlines of the war-torn Middle East. An extremist faction of Islam bombs a church during a service. The one door in the back isn't big enough for five hundred people trying to escape.

Some are killed.

But after the chaos and fire and smoke, one young woman comes back to life.

In this thrilling true tale, death does not have the final word. From the first time Samaa heard the Lord Jesus calling her out of Islam into faith in Him, till she met Him face to face in heaven, her life is marked by God's supernatural love and power. Full of hope and encouragement, and overflowing with Jesus' love, her riveting account reveals the power of God to break through any circumstance--and is a moving reminder that, in a place beyond what we can imagine, we have a Savior waiting to welcome us face to face.
- Publisher


Meet the Authors
Samaa Habib
Samaa Habib grew up a Muslim in the Middle East and became a believer in Jesus Christ even before he appeared to her. Through this and other supernatural experiences, she shares the Lord's great love for people and his imminent return. She is now studying in America.
Bodie Thoene
Bodie and Brock Thoene (pronounced Tay-nee) have written over 45 works of historical fiction. That these best sellers have sold more than 10 million copies and won eight ECPA Gold Medallion Awards affirms what millions of readers have already discoveredthe Thoenes are not only master stylists but experts at capturing readers minds and hearts. Bodie has degrees in journalism and communications. Brock has often been described by Bodie as an essential half of this writing team. With degrees in both history and education, Brock has, in his role as researcher and story-line consultant, added the vital dimension of historical accuracy. Due to such careful research, The Zion Covenant and The Zion Chronicles series are recognized by the American Library Association, as well as Zionist libraries around the world, as classic historical novels and are used to teach history in college classrooms. Bodie and Brock have four grown children - Rachel, Jake, Luke, and Ellie - and five grandchildren. Their sons, Jake and Luke, are carrying on the Thoene family talent as the next generation of writers, and Luke produces the Thoene audiobooks. Bodie and Brock divide their time between London and Nevada.- Publisher.
Customer Reviews For "Face to Face With Jesus"
Write Your Own Review
Memorable
By Colleen,

Jan 14 2018
This true account stays with you long after you have finished the book. All the way through scripture is used alongside every event that takes place. Thoroughly enjoyable and informative. 
---
Inspiring reading
By jin pian,

Sep 21 2017
Koorong review
Face to face with Jesus by Samaa Habib
This is a gripping book from the start with a dramatic event in which the writer encountered her experience with death. Then she used a flashback to how she became a believer from a firm Muslim background with conflict between two tribes. Her conversion came about from an encounter with danger when she called to God, the Creator for help.
Then she joined a martial arts clan whose Christian leader directed them to the God of strength. She got to know this God and relied on him. The change in her life led her family to Christ one by one. Then she described how an explosion happened in the church she was attending killed her. Her soul met her Lord. She was, however, allowed to return to life on earth and made a remarkable recovery despite persecution in the hospitals she attended. That's because God sent a Christian doctor to minister to her in secret. The book showed the courage God gave Samaa to witness for Him. 
 It's an inspiring book and speaks of God answering the prayer of anyone who calls upon Him in their need.I strongly recommend this book to everyone.

---
very encouraging!
By Cindy,

Nov 23 2015
It's so encouraging reading Samaa's personal testimony.  She lives out the scriptures in her daily walk with Jesus.  "Blessed are those who are persecuted because of righteousness, for theirs is the kingdom of heaven" (Mt 5:10)  Highly recommanded!
---
An inspiring walk!
By Manda,

Dec 12 2014
I thoroughly enjoyed reading 'Face to Face with Jesus'. The book is simple to read, yet profound, in that Samaa walks with Jesus with such deep spiritual devotion, boldness, determination and servitude. Her faith allows her to overcome so many dangers and trials in the war-torn nation in which she resides with her family. The story is a wonderful challenge for all of us who would desire to be faithful followers of Jesus, encouraging us to walk with fearless courage and deep abiding hope. Samaa was also raised to life after dying in an explosion. I would with good faith trust that such an extraordinary event indeed did happen, and all that transpired in that incident simply gives me hope - that our Lord is more real and more loving and more good than we could ever have imagined. Worth a read!
{{review.title}}
By {{review.author.name}},

{{review.reviewCreatedDate | date:'MMM dd yyyy'}}

{{reviewdescription}}
{{review.text}}
---