Facing the Blitz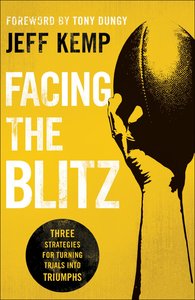 $16.99
$13.59
You Save: $3.40 (20%)
Paperback
:Popular Speaker Reveals That Every Trial Is an Opportunity

A football blitz is an attack to force the quarterback into a mistake and create mayhem. But a blitz also creates an opportunity for the quarterback, as it leaves holes in the defense. What looks like the worst play can become the best play.

During a life blitz--financially, relationally, spiritually, or physically--by taking initiative you can do more than just survive. You can grow, succeed, and advance. Jeff shares lessons learned through all kinds of blitzes. He teaches how life is about transformation and being others-oriented, and how having the right mind-set can turn fear and misery into courage, growth, and joy. Includes end-of-chapter questions.

Now in paper.

- Publisher
You May Also Be Interested In
About "Facing the Blitz"
:Popular Speaker Reveals That Every Trial Is an Opportunity

A football blitz is an attack to force the quarterback into a mistake and create mayhem. But a blitz also creates an opportunity for the quarterback, as it leaves holes in the defense. What looks like the worst play can become the best play.

During a life blitz--financially, relationally, spiritually, or physically--by taking initiative you can do more than just survive. You can grow, succeed, and advance. Jeff shares lessons learned through all kinds of blitzes. He teaches how life is about transformation and being others-oriented, and how having the right mind-set can turn fear and misery into courage, growth, and joy. Includes end-of-chapter questions.

Now in paper.
- Publisher


Meet the Authors
Jeff Kemp
Jeff Kemp quarterbacked in the NFL for eleven years, playing for the Rams, the 49ers, the Seahawks, and the Eagles. He and his father, Jack Kemp, were the first father-son quarterbacks in NFL history. Today Jeff speaks at community events, churches, men's and marriage conferences, business conferences, and prayer breakfasts. In 2012 Jeff joined FamilyLife as a vice president, networking and speaking on how to strengthen families. His other networks include the Marriage CoMission and Fatherhood CoMission, National Coalition of Ministries to Men, Pro Athletes Outreach, Athletes in Action, NFL Players Association, and The Jack Kemp Foundation. Jeff and his wife, Stacy, live in Little Rock, Arkansas.