Facing the Hunchback of Notre Dame (#01 in Enchanted Attic Series)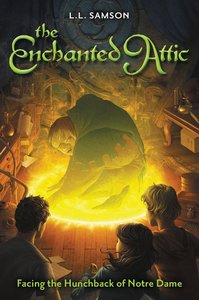 A hidden attic. A classic story. A very unexpected twist. Twin twelve-year-old bookworms Ophelia and Linus Easterday discover a hidden attic that once belonged to a mad scientist. While relaxing in the attic and enjoying her latest book, The Hunchback of Notre Dame, Ophelia dozes off, and within moments finds herself facing a fully alive and completely bewildered Quasimodo. Ophelia and Linus team up with a clever neighbor, a hippy priest, and a college custodian, learning Quasimodo's story while searching for some way to get him back home---if he can survive long enough in the modern world.

- Publisher
You May Also Be Interested In
About "Facing the Hunchback of Notre Dame (#01 in Enchanted Attic Series)"
A hidden attic. A classic story. A very unexpected twist. Twin twelve-year-old bookworms Ophelia and Linus Easterday discover a hidden attic that once belonged to a mad scientist. While relaxing in the attic and enjoying her latest book, The Hunchback of Notre Dame, Ophelia dozes off, and within moments finds herself facing a fully alive and completely bewildered Quasimodo. Ophelia and Linus team up with a clever neighbor, a hippy priest, and a college custodian, learning Quasimodo's story while searching for some way to get him back home---if he can survive long enough in the modern world.

- Publisher
- Koorong


Linus and Julia Easterday find themselves in the strangest situations. Repeatedly. And it's their own fault. "How many other kids our age have Natty Bumpo living in their attic?" Linus complains. And yet, how many other twelve-year-olds know Quasimodo and the Count of Monte Cristo personally? It all began when Linus and Julia, fraternal twins, moved in with their Aunt Portia and Uncle Augustus after their lepidopterologist parents journeyed to the newly discovered island of Stu (named after it's discoverer, Stu Cranston, of Hohocus, New Jersey) for at least five years to study never-before-seen butterflies. Aunt Portia and Uncle Augustus Sandwich run an antiquarian bookshop. Seven Hills Rare Books attracts customers as eccentric as its owners. (If Aunt Portia, who wears a tiara in her fuzzy, apricot colored hair, thick glasses and cowboy boots, can be considered eccentric. We won't get into Uncle Augustus. He does, however, drink a lot of tea, eat a lot of sandwiches, and tends to talk with Jesus at any time - even if you happen to be standing in front of him.) Seven Hills, housed in a three story stone townhouse, was once a magic shop owned by second-rate magician Harvey Blackstone. What most people who inhabited Rickshaw Street didn't know was that behind the dusty front window arranged with faded top hats, dusty wands, and scattered cards, Harvey Blackstone conjured up something truly magical. So magical he disappeared one night. About a month after the children moved in with their relatives, they discovered Harvey's magic laboratory through a hidden door in the closet of the back bedroom of the third floor. A circle had been burned into the middle of the scarred wooden floor. As it happened, Julia decided to read up there one night when she couldn't sleep. She'd reclined on the couch and fell asleep while reading her Bible and occasionally sneaking a peek at a novel. As happens sometimes, her arm flopped to the side and her book, The Hunchback of Notre Dame, dropped onto the floor. At 12:03 a.m., the circle began to glow, then pop and hiss and spark like fireworks. Julia woke with a start. At 12:05 a.m. the sparks settled down and there sat Quasimodo and my goodness, he wasn't happy at all. Or perhaps he was simply scared to death as he had not yet gotten out of his bell tower and suddenly, poof, there he is in the twenty-first century. How long the visitor stays depends on how fast Julia can read the book, cover to cover. If it's a doozie like Les Miserables, matters can get quite sticky, and believe you me even the shorter books give the twins a great deal of trouble. Imagine having the Frankenstein monster around even for just a day. The bulk of the story is the children's: how they deal with a raging sea captain in present day, how they manage to get a hunchbacked recluse into the sunshine or a babbling Danish prince to the psychiatrist - and what lessons they take into life.
- Publisher
Meet the Author
Lisa Samson
Lisa Samson is the author of over twenty-five books, including the Christy award-winning novel Songbird. Her novel, Quaker Summer was Christianity Today's novel of 2008. She is coauthor with her husband, Will, of Justice in the Burbs.
Other Titles In The "Enchanted Attic Series" Series View All
$11.99




Order now to secure your copy when our stock arrives. 0 Available. Expected to ship November 2018.

Formats

$11.99




Order now to secure your copy when our stock arrives. 0 Available. Expected to ship in 6 to 7 weeks from Australia.

Formats