Fair Play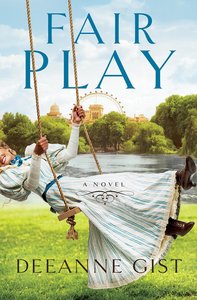 From the bestselling author of It Happened at the Fair comes a historical love story about a lady doctor and a Texas Ranger who meet at the 1893 Chicago World's Fair.

Saddled with a man's name, the captivating Billy Jack Tate makes no apologies for taking on a man's profession. As a doctor at the 1893 Chicago World's Fair, she is one step closer to having her very own medical practice-until Hunter Scott asks her to give it all up to become his wife.

Hunter is one of the elite. A Texas Ranger and World's Fair guard specifically chosen for his height, physique, character, and skill. Hailed as the toughest man west of any place east, he has no patience for big cities and women who think they belong anywhere but home...

Despite their difference of opinion on the role of women, Hunter and Billy find a growing attraction between them-until Hunter discovers an abandoned baby in the corner of a White City exhibit. He and Billy team up to make sure this foundling isn't left in the slums of Chicago with only the flea-riddled, garbage-infested streets for a playground. As they fight for the underprivileged children in the Nineteenth Ward, an entire Playground Movement is birthed. But when the Fair comes to an end, one of them will have to give up their dream.

Will Billy exchange her doctor's shingle for the domesticated role of a southern wife, or will Hunter abandon the wide open spaces of home for a life in the "gray city," a woman who insists on being the wage earner, and a group of ragamuffins who need more than a playground for breathing space?

- Publisher
You May Also Be Interested In
About "Fair Play"
From the bestselling author of It Happened at the Fair comes a historical love story about a lady doctor and a Texas Ranger who meet at the 1893 Chicago World's Fair.

Saddled with a man's name, the captivating Billy Jack Tate makes no apologies for taking on a man's profession. As a doctor at the 1893 Chicago World's Fair, she is one step closer to having her very own medical practice-until Hunter Scott asks her to give it all up to become his wife.

Hunter is one of the elite. A Texas Ranger and World's Fair guard specifically chosen for his height, physique, character, and skill. Hailed as the toughest man west of any place east, he has no patience for big cities and women who think they belong anywhere but home...

Despite their difference of opinion on the role of women, Hunter and Billy find a growing attraction between them-until Hunter discovers an abandoned baby in the corner of a White City exhibit. He and Billy team up to make sure this foundling isn't left in the slums of Chicago with only the flea-riddled, garbage-infested streets for a playground. As they fight for the underprivileged children in the Nineteenth Ward, an entire Playground Movement is birthed. But when the Fair comes to an end, one of them will have to give up their dream.

Will Billy exchange her doctor's shingle for the domesticated role of a southern wife, or will Hunter abandon the wide open spaces of home for a life in the "gray city," a woman who insists on being the wage earner, and a group of ragamuffins who need more than a playground for breathing space?
- Publisher


Meet the Author
Deeanne Gist
Deeanne Gist, the bestselling author of A Bride Most Begrudging and The Measure of a Lady, has a background in education and journalism. Her credits include People magazine, Parents, and Parenting. With a line of parenting products called "I Did It! Productions" and a degree from Texas A and M, she continues her writing and speaking. She and her family live in Houston, Texas. Visit Deeanne's Web site at www.deeannegist.com
Customer Reviews For "Fair Play"
Write Your Own Review
Great Book
By Kimberley,

May 14 2016
This was a great book set in Chicago during the World's Fair. I really enjoyed reading about the character's and how they had to come to terms with life in the city and the changing world. It was a long book but the story was constantly moving and so it didn't drag like other books can.
---
Not Christ-centred
By Lisa,

Oct 23 2015
The storyline is very interesting and well written and researched. BUT the romantic side of it was not making me feel comfortable, it kept on making me feel like at any moment they would have sex. And I did not notice anything God centred. It was making feel uncomfortable as I read.
I cannot in good conscience recommend this as a christian novel.
---
Fun Historical romance
By Jacqui,

Jul 01 2015
This is story; set in Chicago during the time of the world fair in 1893 is fascinating and engrossing. I loved the historical aspect of it. Deeanne Gist has obviously done a lot of research about the fair but also about conditions in Chicago at the time.  The main fiction characters, Billy Jack Tate, a female doctor and Hunter a Texas Ranger who is seconded as a security guard at the fair have a dynamic relationship full of chemistry. Their relationship intertwines with the true history of the time which is heartbreaking but presents some inspiring people. Although historical I found that it challenged me in how I serve God and love the needy around me. Overall it is a very satisfying book to read.
---
Trademark Deeanne Gist
By Iola,

May 22 2014
A huge amount of research has gone into the writing of Fair Play, as is evident from the authentic photographs at the beginning of each chapter. This authenticity was one of the strengths of the story, as it made it so much easier to see the deprivation in the slums, and the contrast between rich and poor. It was also gratifying to read at the end that many of the plot points, including the playground, were based on historical records.

I also liked the characters. Both Billy and Hunter were intelligent and ambitious, and both had a certainty in their occupational calling that provided some interesting misunderstandings. This was tempered by genuine caring for the plight of the poor ... and each other.

Fair Play is a standalone novel, but is loosely related to It Happened at the Fair, also based at the World's Fair. It is published by Howard Books, a Christian imprint, but I have to say that the content is more clean general-market romance than Christian, as there is no overt faith element. That's a disadvantage for those looking for some Christian in their Christian fiction, but will be seen as an advantage by those who find some Christian fiction too preachy. However, it has all Deanne Gist's trademark passion and I'm sure her fans will enjoy it.

Thanks to Howard Books and NetGalley for providing a free ebook for review
{{review.title}}
By {{review.author.name}},

{{review.reviewCreatedDate | date:'MMM dd yyyy'}}

{{reviewdescription}}
{{review.text}}
---