Faith and Doubt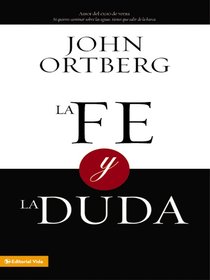 SPANISH EDITION. John Ortberg demonstrates how doubt is very much a part of faith and how uncertainty can lead to trust. 'The beliefs that really matter,' he writes, 'are the ones that guide our behavior.' We all hope, Ortberg writes, but we cannot hope without faith, and so we must not hope for something but someone?JesusChrist
You May Also Be Interested In
About "Faith and Doubt"
SPANISH EDITION. John Ortberg demonstrates how doubt is very much a part of faith and how uncertainty can lead to trust. 'The beliefs that really matter,' he writes, 'are the ones that guide our behavior.' We all hope, Ortberg writes, but we cannot hope without faith, and so we must not hope for something but someone?JesusChrist
- Koorong

A menudo pensamos que la duda es lo opuesto de la fe, pero ¿pudiera en realidad fortalecer nuestra relación con Dios? Según John Ortberg, autor de éxitos de librería y pastor, la misma naturaleza de la fe requiere la presencia de la incertidumbre.En este vistazo refrescantemente cándido a la vida de la fe, el autor traza una línea entre la creencia y la incredulidad. Nos da cierto alivio en cuanto a las dudas que pudiéramos tener. Las preguntas pueden ampliar nuestra comprensión, la incertidumbre puede conducir a la confianza, y la fe honesta puede producir una fe extraordinaria.Escrito basado precisamente en la propia lucha de Ortberg con la fe y la duda, este libro será un reto para usted. Le consolará y le inspirará con la verdad que Dios quiere de todos nosotros, incluyendo nuestras dudas.
- Publisher


Meet the Author
John Ortberg
John Ortberg is a teaching pastor at Menlo Park Presbyterian Church in Menlo Park, California, and previously served as teaching pastor at Willow Creek Community Church. He is the best-selling author of Everybody's Normal Till You Get to Know Them, If You Want to Walk on Water, You've Got to Get Out of the Boat, Love Beyond Reason, and Old Testament Challenge. He has written for Christianity Today and is a frequent contributor to Leadership Journal. His most recent publications include When the Game is Over, God is Closer than you Think, and Overcoming Your Shadow Mission.
-Editorial Review.