Faith and Friendships of Teenage Boys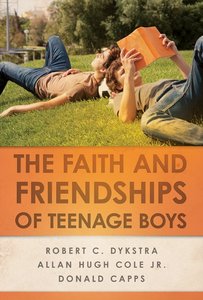 Drawing on research and case studies, three pastoral care experts argue that one of the primary contexts in which the faith formation of teenage boys takes place is in their relationships with other adolescent males. Written by the authors ofLosers, Loners, and Rebels: The Spiritual Struggles of Boys, this book is an important resource for anyone interested in helping adolescent males navigate years often marked by isolation and loneliness to develop a meaningful spiritual identity.

- Publisher
You May Also Be Interested In
About "Faith and Friendships of Teenage Boys"
Drawing on research and case studies, three pastoral care experts argue that one of the primary contexts in which the faith formation of teenage boys takes place is in their relationships with other adolescent males. Written by the authors ofLosers, Loners, and Rebels: The Spiritual Struggles of Boys, this book is an important resource for anyone interested in helping adolescent males navigate years often marked by isolation and loneliness to develop a meaningful spiritual identity.
- Publisher


Meet the Authors
Robert C Dykstra
Robert C. Dykstra is Charlotte W. Newcombe Professor of Pastoral Theology at Princeton Theological Seminary and the author of several books, including "Images of Pastoral Care" and "Counseling Troubled Youth".
Allan Hugh Cole
Allan Hugh Cole Jr. is the Nancy T. Williamson Associate Professor of Pastoral Care at Austin Presbyterian Theological Seminary, Austin, Texas. His previous works include From Midterms to Ministry: Practical Theologians on Pastoral Beginnings (Eerdmans).
Donald Capps
Donald Capps is Professor Emeritus of Pastoral Theology at Princeton Theological Seminary. He has written many books, including "The Decades of Life" and "Jesus the Village Psychiatrist".
Excerpt
Excerpt from: Faith and Friendships of Teenage Boys
"Friendship is more than a resource on which an adolescent boy may draw in order to help him make his way forward. It is also integral to how a boy comes to understand the destination itself. If based on truth and tenderness boys' friendships often are their faith." ?from the introduction